Books
A Collection of Nightmares
By Christina Sng
ISBN-10: 1935738984
ISBN-13: 978-1935738985
Raw Dog Screaming Press, July 2017
92 pages
Paperback and Kindle from Amazon
Paperback from Raw Dog Screaming Press, Barnes & Noble, booktopia, BooksActually, and Kinokuniya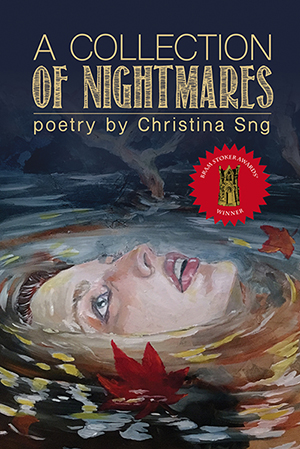 Bram Stoker Award® Winner, Elgin Award nominee, and one of LitReactor's Best Books of 2017, A Collection of Nightmares takes us through a surreal dreamscape of seasonal creatures, bone carvers, listless gods, vengeful angels, and post-apocalyptic survivors, to the end of all things good and evil.
**********
"A Collection of Nightmares is a starkly beautiful assemblage of fantastical verse. This is a short collection, only 88 pages, but the mastery of style and substance makes for a satisfying read. Indeed, Christina Sng's experience in writing verse gives the feeling that each poem was carved by a sculptor, using language as one would a cutting, to reveal only the elegant, necessary flow of lines that suggest and imprint her gorgeous imagery.
"To be sure, the word "exquisite" has been used by many to describe Sng's poetry, and by happenstance this is the title of the first poem in the collection. "Exquisite" is well chosen to open the book: Sng eloquently describes a statue, a once live person frozen in time by the gaze of Medusa. The last line "And then you take a step" is the perfect invitation to step into the remaining pages, to wander about this garden of verse that Sng has so carefully tended."
-- Spectral Realms
"I know horror poetry is not something you expected to find here, but this is amazing. It's horror poetry...and science fiction poetry and funny poetry and weird poetry and alien invasion poetry and body horror madness poetry and everything in between. More than that, it is also short stories in poetry form. Very satisfying short stories. It deserves a spot on a lot of lists."
-- LitReactor's Best Books of 2017
**********
Hold your screams and enter a world of seasonal creatures, dreams of bones, and confessions modeled from open eyes and endless insomnia. Christina Sng's A Collection of Nightmares is a poetic feast of sleeplessness and shadows, an exquisite exhibition of fear and things better left unsaid. Here are ramblings at the end of the world and a path that leads to a thousand paper cuts at the hands of a skin carver. There are crawlspace whispers, and fresh sheets gently washed with sacrifice and poison, and if you're careful in this ghost month, these poems will call upon the succubus to tend to your flesh wounds and scars.
These nightmares are sweeping fantasies that electrocute the senses as much as they dull the ache of loneliness by showing you what's hiding under your bed, in the back of your closet, and inside your head. Sng's poems dissect and flower, her autopsies are delicate blooms dressed with blood and syntax. Her words are charcoal and cotton, safe yet dressed in an executioner's garb.
Dream carefully. You've already made your bed. The nightmares you have now will not be kind. And you have no one to blame but yourself.
**********
On the collection:
"A Collection of Nightmares is poignant and disturbing, beautifully written and wildly ranging in subject matter and execution, horrific and wonderfully atmospheric. If a large chunk of contemporary poetry pushes me back into the comforting arms of novels, this collection violently pushed me to seek out more of Sng's work, and that's one hell of an achievement."
-- Gabino Iglesias, HorrorTalk
Full review at HorrorTalk
"A splendid collection of dark fantasy/horror and dark science fiction poetry. Many outstanding items among the 47 poems."
-- Jim Lee, reviewer
Full review at Jim Lee's Review Site
"This poetry collection is beautiful. The poems are dark and creepy. Just the way I like it...(They) drip with life and death. They are brutal and frightfully beautiful. Some will make you tear up, while others will give you chills...If you haven't read any horror poetry lately, then I suggest you remedy that immediately. This collection is a great place to start."
-- Cedar Hollow Horror Reviews
Full review at Cedar Hollow Horror Reviews
"Christina Sng writes beautifully, and she has put her heart into these poems...They had depth and emotion, and they were so descriptive. Many of the narrators of the poems seemed to be women, and it was easy to find things to relate to in this collection...there's such an intriguing variety in Christina's poetry that it was all enjoyable...A Collection of Nightmares would be a great introduction to someone who wants to try out horror poetry, but maybe doesn't want to get into super gory material yet. This book is definitely dark, but it's not as bleak as some others I have read. There's still some hope in these poems even though they are focused on nightmares."
--Emily at book.happy
Full review at Goodreads
"With A Collection of Nightmares: Even the Most Exquisite Dreams Turn Dark, Sng spends much more time in longer-form poetry, but the twists of both theme and execution are even stronger than those of Astropoetry...A Collection of Nightmares spends more time exploring people trapped with their darkness...Sng's sense of humor is still present in A Collection of Nightmares, but here it takes the form of gallows humor of the darkest stylings...how these darkest ironies hold the strongest kernels of truth within them. A Collection of Nightmares demonstrates...Sng's thematic concerns of human agency. Our ability to succeed, our capacity to fail, and the bounds on both. And within that framework, Sng both places the reader as a human in a vast universe of space and of fear, and reminds us that even when surrounded by this vastness, being human matters."
-- Luke Forney, Star*Line Reviews
"...just in case you haven't read her poetry collection yet, I highly recommend the amazing Christina Sng's A Collection of Nightmares. It's beautiful, it's unsettling, it's absolutely perfect reading for February or any other month."
--Gwendolyn Kiste, author of Rust Maidens and Bram Stoker Award nominee And Her Smile Will Untether the Universe
"Every poem is a gem!"
-- Debby Feo, author of Dark and Bloody Ground
"If you like your poetry dark--but also like it with a heart and soul--this is a great collection. I love how Christina Sng blends creepiness with human interaction. So many of the stories involve the links between family members, especially mothers and children. It captures, with remarkable emotional effect, the desire to protect in terrifying moments and the fear that only loving someone can bring to us."
-- Jennifer Crow, poet
"Christina Sng's Bram Stoker Award-winning collection could therefore not be more aptly named. Sng's work elicits the same hypnagogic surreality you've felt infusing your prone and vulnerable sleeping form during a particularly terrifying omnibus of nightmares."
-- Christa Carmen, poet
Full review at Goodreads
"Beautiful, dark, and lyrical. Sng paints each poem with detailed brushstrokes, creating evocative images that drip together to create a wonderfully, wicked story. Many pieces reminded me of an anti-fairytale, where we are given the opportunity to glance into the not so happy-ever-after endings. A stunning collection overall."
-- Sara Tantlinger, poet
"A Collection of Nightmares is a book that left me bloodthirsty for more."
-- John Reinhart, poet
Full review at Goodreads
"This collection is a magical mirror, showing us surprising, surreal images of some unique and common issues of terminal illness, etc.
From The Marvel of Flight: ...she poises / To plunge / Her cancer-stricken body / Into the air. / And soon, / She is flying.
Sng creates her own brand of myth, complete with carnivorous plants and creatures created when Sleep Takes a Vacation: We've become a city of wide-eyed / Shell-shocked zombies, wandering / Lost when night's curtain falls.
...a magic quilt of surreal and unique portraits turning the stuff of nightmares and pain into beautiful, even when bloody, images of release and redemption."
-- Linda D. Addison, award-winning author of How to Recognize a Demon Has Become Your Friend
"Participating in a Grand Guignol tradition that traces back to Shelley and Poe... there's a simultaneously more poignant and more disturbing undertow moving just beneath these spiny surfaces: the notion that, against terrifying events beyond our control, the compassion we carry with us will be our only line of defence, our last light shining through the kindness we show, all the more precious for how briefly it flashes."
-- Mike Allen, author of Hungry Constellations
"This is a book of breathtaking artistry. In verse that ranges widely in subject matter and metrical form, Christina Sng invariably focuses on just those words and images that evoke terror, otherworldliness, and fantasy. But deep emotional resonance is not absent, and Sng can evoke poignancy and melancholy as effortlessly as she can evoke fear and dread."
-- S. T. Joshi
"Christina Sng's poetry gives me the same feeling as observing a Kandinsky painting or hearing a Nine Inch Nails song: something immediate, deeply complex and intensely profound. It is, in short, a wonder."
-- Jason Erik Lundberg, author of Strange Mammals
"As I read this collection, I found myself exclaiming aloud, for there were so many I could relate to, and that is rare for me. Herein are poems that bite you by surprise, delight you with the weave of fresh fabric... A goodly number are dark SF story capsules, from alien interventions to surviving on a world ruined by mankind. I could not pick a single favorite. I loved them all."
-- Marge Simon, Bram Stoker Award-winning poet
"Each of these fifty or so potent poems are actually stunning little stories about terrifying transformations. Each of the tales she tells are chilling, but her poetic and playful approach spins you around in a vortex of exquisite language and a swirling miasma of wildly terrifying imagination until you yourself are transformed... left dizzy and eager for the next time around. A brilliantly twisted collection, sure to turn a number of heads."
-- Michael Arnzen, Bram Stoker Award-winning author of Freakcidents and The Gorelets Omnibus
-------
Astropoetry
By Christina Sng
Alban Lake Publishing, February 2017
45 pages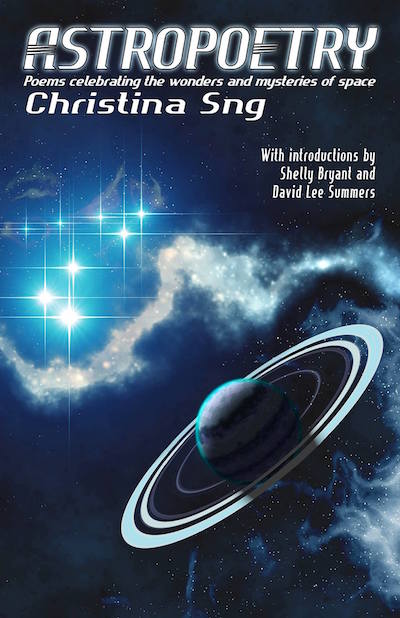 2018 Elgin Chapbook Award runner-up, Astropoetry celebrates the wonders and mysteries of space in scifaiku and lyrical prose.
Available in print US$6 and digital US$1.99 from Alban Lake Publishing.
Introduction:
"Reading this collection of short poetry by Christina is much like a night during the survey. We glimpse a wonder, ponder it for a time, then move on to another. The experience doesn't diminish with time. Instead, it builds, layer upon layer--or stripe upon stripe as we call it during the survey--to create a glimpse of this wondrous universe we inhabit. Turn the page, and start your own journey."
-- David Lee Summers, Astronomer and Author
On the collection:
"One could argue that the very nature of haiku, senryu, and other short poetic forms is to capture an essence and then deliver a twist. In Astropoetry: Poems Celebrating the Wonders and Mysteries of Space, Christina Sng exceeds and surpasses this, frequently starting with a twist and then delivering another. Even more essential to Astropoetry's success, beyond its technical acumen and deeply thought-out premises, is Sng's sense of humor, particularly around Halloween. This sense of joy mixes with the mystery and awe of humanity moving beyond Earth. Astropoetry captures the enormous scope of astronomical travel by layering its poems in the order of distance from the sun, out. We watch as humans take their first stab at colonization, and we see the beauty of the enormous astronomical bodies that ravage distant space. Astropoetry demonstrates...Sng's thematic concerns of human agency. Our ability to succeed, our capacity to fail, and the bounds on both. And within that framework, Sng both places the reader as a human in a vast universe of space and of fear, and reminds us that even when surrounded by this vastness, being human matters."
-- Luke Forney, Star*Line Reviews
"I have always enjoyed Christina's poetry, but I didn't know what a delightful trip I'd be taking when I started reading this collection! Many of her poems are tiny SF story capsules, just begging your imagination to take flight."
-- Marge Simon, SFPA Grand Master, 2015
"Christina Sng's poetry is concise, poignant, profound, and colorful. She takes scientific jargon and turns it into poetic beauty and, sometimes, sad commentary. I have been truly honored to feature her work so often in Scifaikuest. Astropoetry is a brilliant collection of her poetic gems."
-- Teri Santitoro, Editor, Scifaikuest, 2016
-------
An Assortment of Sky Things
By Christina Sng
ISBN: 978-981-11-1481-6
Allegra Press, October 2016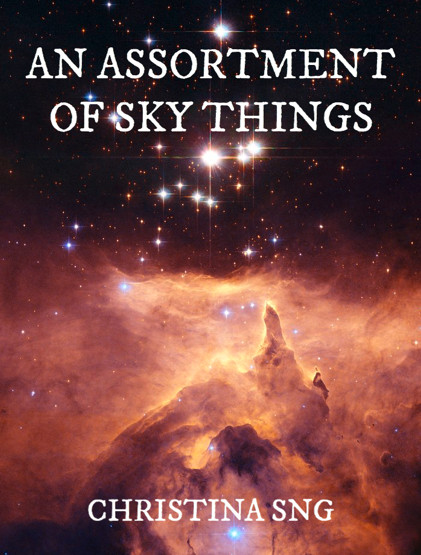 Nominated for an Elgin Chapbook Award in 2017, An Assortment of Sky Things is a poetic tour of the solar system and beyond in haiku and short poetry, including "Life on Titan", which earned an Honourable Mention in the 2015 Global Astronomy Month AstroPoetry Contest.
This limited print version of An Assortment of Sky Things is 18 pages, wallet-sized, printed on FSC-certified carbon neutral paper, saddle-stapled, hand-bound and cut.
Out of print.
On the collection:
"A fantastically fresh and marvellous collection!"
-- Marge Simon, SFPA Grand Master, 2015
"Sng's deftness in dealing with the chosen forms is matched only by the breadth of her imagination. In reading, I feel a great affinity for this poet, whose mind travels so widely and agilely across our solar system and beyond, and brings the stars into clear view, near enough almost to touch."
-- Shelly Bryant, writer, researcher, translator, and author of Pine the Passing, and Unnatural Selection
-------
A Constellation of Songs
By Christina Sng
ISBN: 978-981-11-1480-9
Allegra Press, October 2016 - Print
Origami Poems Project, October 2016 - PDF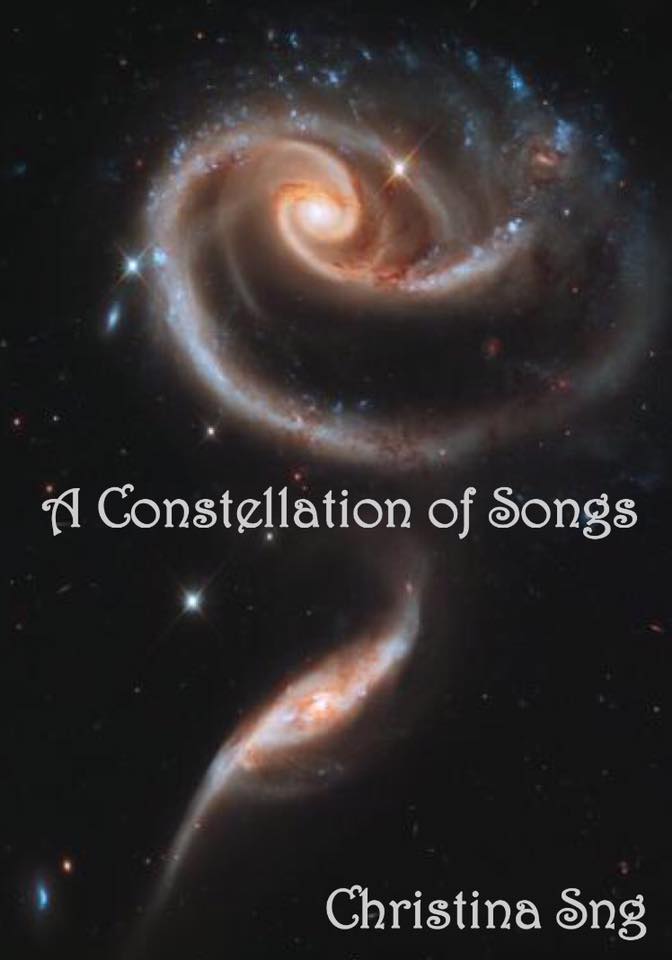 Christina's first haiku collection, A Constellation of Songs, part of the Origami Poems Project, is available online as a free printable PDF micro chapbook.
A Constellation of Songs spans birth to death, illuminating the wonder and beauty of life in between. This 18 haiku collection includes two sumi-e from the poet and her daughter.
The print version of the chapbook is 16 pages, wallet-sized, printed on FSC-certified carbon neutral paper, saddle-stapled, hand-bound and cut.
Currently out of print - second printing slated for late 2018.
On the collection:
"If only life was as organized and accessible as this refined collection of haiku. Engaging surprises on every page explore life's richness and variety."
-- Michael Dylan Welch, founder of National Haiku Writing Month
"In A Constellation of Songs, Christina Sng brings us through the stages of life -- from the wonders of childhood to the agony of loss, culminating in the serendipity of acceptance. Each haiku is a song which strikes a bright note, punctuating our journey with moments that finally yield an illuminating melody."
-- Dr. Lynette Tan Yuen Ling, author of the Pittodrie Pirates series and lecturer at the National University of Singapore
~~~~~~~~
Catku
By Christina Sng
ISBN: 978-981-11-1483-0
Allegra Press, October 2016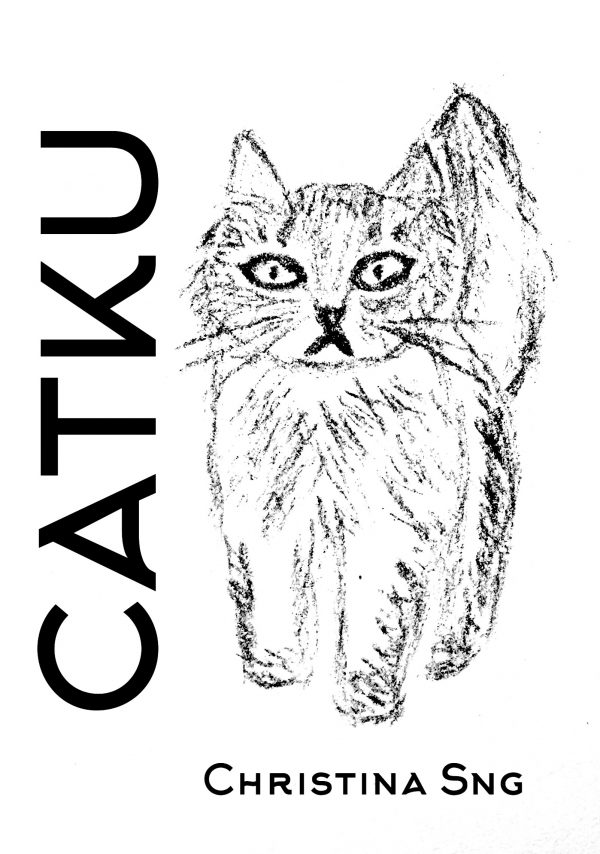 Catku takes us on a whimsical life journey between a cat and its human, a tale woven with 21 haiku and senryu based on the poet's life with beloved cats. A must-have collection for all cat lovers.
The print version of Catku is 16 pages, wallet-sized, printed on FSC-certified carbon neutral paper, saddle-stapled, hand-bound and cut.
Currently out of print - second printing slated for late 2018.
Introduction:
The poet is both a participant and an observer of the world they inhabit. If you are a cat owner, it is easy then to see your feline friends as fellow poets. No fame, no publishing credits, but just the persistent purr of poetry for those who respect their characters and their musing as they share our lives. Christina Sng has found her muse, and her fellow poets in Kit and Boy, and merged their poems with hers. I am an unabashed cat lover myself, but for anyone who loves the short forms of haiku or senryu this volume will bring a purr to your ears as well. It is a most enjoyable read, from a poet who understands both the form and her felines well.
-- Michael Rehling, editor of Failed Haiku -- A Journal of English Senryu

On the collection:
"Poignant, witty and bittersweet at times, her beautiful compositions distill experiences for the reader and offer novel perspectives. Reading Catku affords a rich array of emotions, not least a rare empathy for living things."
-- Dr. Lynette Tan Yuen Ling, author of the Pittodrie Pirates series and lecturer at the National University of Singapore
"When I read Christina Sng's haiku/senryu, I think of fireflies -- her poems are tiny pulses of light briefly illuminating moments of joy, awe, surprise, sorrow. I am always glad of an opportunity to watch fireflies, just as I am always glad of an opportunity to experience Christina's haiku!"
-- JM Reinbold, editor, The Cicada's Cry: A Micro Zine of Haiku Poetry
"Though they say there are dog people and cat people, I believe that all of us see something special in cats: their individuality, their mysterious behavior, their love (given on their own accord), and much more.
Catku by Christina Sng is a celebration of and exposition into the lives we share with cats, and the inner lives of these felines through a mixture of light, meditative, and poignant haiku. There are standout haiku on every page, but the following are my favorite three from the book:
a world
of possibilities
kitten in a box
This points to several things: the possibilities of the power of innocence, the possibilities of the kitty tearing things up, and also imagining how the kitty will look in its future. Also, this haiku could be saying that our world is like a kitten in a box. It gives a lot for the reader to imagine and to ponder over. Notice also the great sense of sound with the use of "o" which gives the reader a strong sense of wonder.
meandering stream
our cat languorously
grooms herself
I love how the connection between the two parts of the haiku make one think if the stream is actually grooming its surroundings through its relaxed pace. People step on, spit on, and do whatever they like to Mother Earth, and the stream is in a sense cleaning and soothing the land. But on the other end, maybe it can be seen as the stream constantly purifying itself through its own movement. The sense of sound in this haiku is also intriguing, with a focus on "ea" in the first line, and "o" in the last two lines. The sound in the first line calls attention to the stream itself, and the sound in the last two lines lend to the slow pace of the stream.
white lilies
the empty pet bed
in the corner
Maybe the poet was sitting in her living room, and saw white lilies in her garden, and then turned to the white, empty pet bed in the room. White lilies commonly symbolize innocence and purity, and the empty pet bed gives a sharp contrast. This haiku implies that one of the poet's pets died not long ago, and seeing the white lilies maybe brought back memories of her pet, in all its sweetness and emotional fullness. The haiku could also be a reflection of where the pet has gone in the afterlife, and that maybe there is a sense of hope in seeing the white lilies. Whatever the haiku brings to the mind of the reader, it has a clear mood that can be felt palpably.
My recommendation would be to read this book alone with your cat, sipping some tea. The haiku are quite striking, comedic, and at times rather emotional, so it is good to give yourself space to read it."
-- Nicholas Klacsanzky, editor, Haiku Commentary
-------
Dark Dreams
By Christina Sng
Naked Snake Press, 2006; Smashwords, 2011
eBook available at Smashwords, iTunes, and Barnes & Noble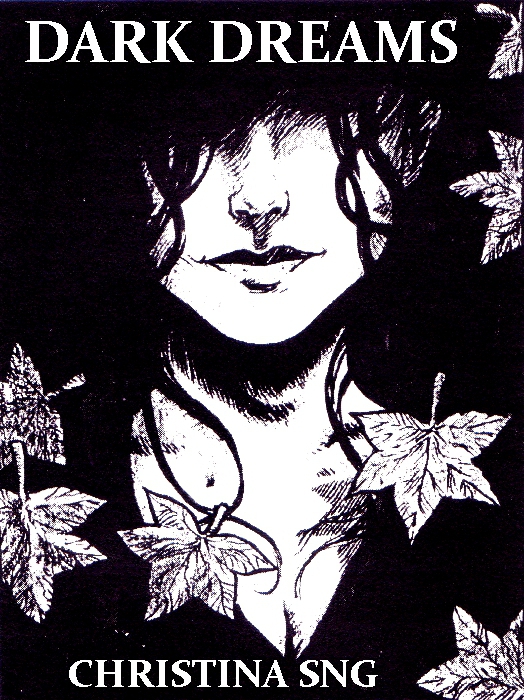 Dark dreams linger at the fringes of our existence, spilling into poetry and art and music. In some, it is a quiet melancholy which seeps into our daily consciousness. For others, it manifests into a dark new reality. In her third collection, Christina Sng conjures 13 images of beauty and darkness in this abridged edition of Dark Dreams, which includes the Rhysling nominated poem "Medusa in LA".
There are the stories we never tell anyone. The ones we keep deep in the recesses of our minds. Dreams we create out of the darkness in which we live in. Sometimes the dreams can be so profound, so powerful, they manifest into reality. Sometimes we survive to tell the tale.
Take a deep breath, and dive into these 13 fables, etched in verse. Maybe you will find your own dark dreams in there.
This abridged version of Dark Dreams features the cover art of comic book artist Brian Hurtt and 11 of the 19 original poems published in 2006 by Naked Snake Press. 2 new poems "Sleep Takes a Vacation" and "Just as Papa Said" have been included to this revised edition.
Dark Dreams contains 13 of Christina Sng's best work from 2002-2006, including "Crimes of Our Youth" and "The Bone Carver", which received Honourable Mentions in the Year's Best Fantasy and Horror, 16th and 17th Annual Editions in 2003 and 2004 respectively, as well as "Medusa in LA" which received a 2006 Rhysling Poetry Award nomination in the short poem category.
On the collection:
"Despite the dark content, Sng's poetry remains pleasant to read. There is a detachedness to her poetry, which allows the reader to experience the unpleasantness of the horror without being blindsided by grotesque or repulsive images or language. As the title indicates there is often a dreamlike quality of observation of the weirdness of our psyches."
-- Diane Severson Mori, reviewer for Amazing Stories
-------
The Darkside of Eden
By Christina Sng
ISBN 981-04-5750-2
Allegra Press, 2002
eBook available at Smashwords, iTunes, and Barnes & Noble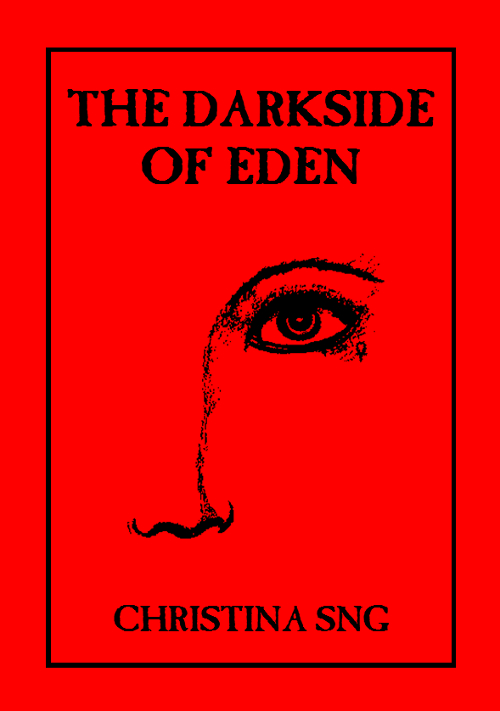 Christina Sng's first collection takes you on a poetic journey into the dark and macabre underworld of nature where humanity's true face will be unpeeled before you, exposing its deepest buried fears and unspoken propensities.
This collection brings together the best of her poems published in 2001 and early 2002 from various North American magazines and anthologies.
On the collection:
"A highly recommended chapbook from an extraordinary poet of dark verse."
-- Jon Hodges, writer, poet, founder of Project Pulp
"The images in Pumpkin Girl were startling and perfect for Halloween, and Postwar -- very poignant."
-- Linda Addison, poet and editor of Space & Time
"There is a nice darkness and edge to her poems. Very gritty and sharp."
-- Frank Wu, award-winning SF/F artist
"Outstanding break-up poetry, with just the right amount of pride, bitterness and turn of the knife. Brilliant."
-- Megan J Bulloch, reviewer for The Swamp
"This is a superb collection. I've got mine; get yours."
-- Tyree Campbell, editor of Aoife's Kiss
"Wonderful collection!"
-- Sarah Guidry, editor of Crux
-------