Christina Sng is a poet, writer, and artist. Her work in Japanese short form poetry, science fiction, and horror has received numerous accolades, most notably, Second Prize in The 2016 San Francisco International Competition for Tanka, Third Prize in the 2016 Annual Harold G. Henderson Award for Haiku, nominations in the Dwarf Stars and Rhysling Awards as well as Honourable Mentions in the Year's Best Fantasy and Horror. She is the author of several collections, including Elgin Award nominee An Assortment of Sky Things (Allegra Press), A Constellation of Songs (Origami Poems Project, Allegra Press), Catku (Allegra Press), Astropoetry (Alban Lake Publishing), and A Collection of Nightmares (Raw Dog Screaming Press).
~ ~ ~ ~ ~ ~ ~ ~
~ ~ ~ ~ ~ ~ ~ ~
AWARDS, REVIEWS, FEATURES, INTERVIEWS
5 November 2017: My haiga, "not alone" has earned an Honourable Mention in The Second Annual Jane Reichhold Memorial Haiga Contest! This is the first time my paintings have received a commendation.
"This lovely expressive watercolour immediately catches the eye with bold colours and a strong link to the senryu. Which becomes a very powerful statement, encapsulating something we may have considered in our lives. Our deep connection to all the universe shines forth in this haiga." ~Ron C. Moss, judge, traditional haiga category
Deeply grateful thanks to judge Ron C. Moss, for this honour, and to publishers, Michael Rehling and Steve Hodge for sponsoring this contest and publishing my work in their wonderful journals, Failed Haiku and Prune Juice.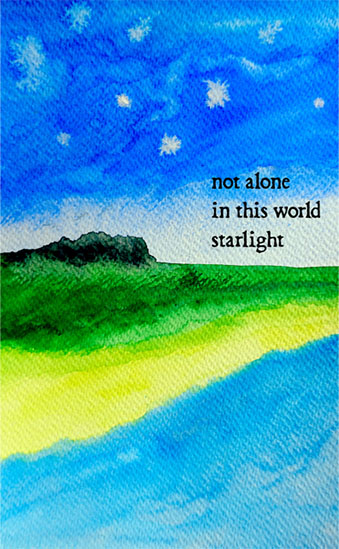 25 September 2017: Gabino Iglesias reviews A Collection of Nightmares at HorrorTalk:
"A Collection of Nightmares is poignant and disturbing, beautifully written and wildly ranging in subject matter and execution, horrific and wonderfully atmospheric. If a large chunk of contemporary poetry pushes me back into the comforting arms of novels, this collection violently pushed me to seek out more of Sng's work, and that's one hell of an achievement."
24 September 2017: My haiku "first day home" received an Honourable Mention at the 2017 Vancouver Cherry Blossom Festival International Haiku Invitational.
first day home
from the hospice
cherry blossoms
24 September 2017: All the Ends of the World -- my podcast interview at The Outer Dark!
15 September 2017: A Collection of Nightmares receives a 5 star review by John Reinhart.
8 September 2017: Linda Addison gives A Collection of Nightmares 5 stars on Amazon.
28 August 2017: Deeply honoured to receive the following awards from the World Haiku Review! My most grateful thanks to Susumu Takiguchi, Kala Ramesh, and Rohini Gupta.
cool summer
getting along in a pot
moss and weeds
~Honourable Mention, Neo-classical Haiku
water fountain
dreams glinting
in the sun
~Haiku of Merit, Neo-classical Haiku
lingering summer
finally the shy boy
speaks up
~Haiku of Merit, Shintai Haiku
whorls
on my finger
ley lines
~Haiku of Merit, Vanguard Haiku
~ ~ ~ ~ ~ ~ ~ ~
LATEST RELEASES
5 November 2017: 4 senryu appear in Prune Juice Issue 23:
broken
in two parts
before and after
driftwood
bottled dreams
washed ashore
day moon
everything seems
possible
water hyacinth
still treading water
every day
2 November 2017: "forgotten loves" and "summer camp" appear in brass bell:
forgotten loves
in mama's journal
pressed roses
summer camp
missing my children
on day one
31 October 2017: My haiku sequence "Little Red in Haiku", science fiction poem "Journey into Neptune", and black and white ink illustration "Young Witch to Saturn" appear in Star*Line 40.4.
2 October 2017: 3 haiku appear in the October issue of brass bell:
feeling like
an alien incubator
long pregnancy
knitting
my fingers learn
on their own
our bodies
never quite forgetting
the art of bicycling
1 October 2017: 5 haiku appear in otata 22:
forty below
the cold hand
on my bones
night stars
beyond the clouds
the rest of everything
swing swaying
on a bare bone branch
chemotherapy
cold streets
a curled up man
unmoving
echoing halls
the layered darkness
of every day people
24 September 2017: Haiku "living" appears in incense dreams. 15 September 2017: My SF poem "Starlight" appears in Space and Time 129!
10 September 2017: My tanka "Mars Beckons" appears in Grievous Angel.
5 September 2017: My fairy tale poem "Little Red" appears in Polu Texni.
1 September 2017: 2 haiku in brass bell:
torrential rain
washing away
everything
long journey
across the bridge
hummingbird
26 August 2017: My haiga "Racing for Shelter", scifaiku "Keeping You" and "Her Stunning Silhouette", and horrorku "Wrong Turn" appear in the 14th Anniversary print issue of Scifaikuest.
24 August 2017: Haiku "slippery road" appears in Wild Plum 3:2.
slippery road
veering between
love and hate
23 August 2017: Haiga "Blown Away" appears in Grievous Angel.
19 August 2017: Scifaiku "Red Sun" and tanka "Sky Full of Stars" appear in Scifaikuest Online.
red sun
my new constant
on Proxima b
sky full of stars
how I wish
I could live
long enough
to visit them all
18 August 2017: "yet another" appears in Asahi Haikuist.
6 August 2017: My one-line haiku "multiverse theory" appears in Sonic Boom #9.
multiverse theory this feeling of deja vu
1 August 2017: "up late" appears in American Tanka.
up late
eating grandma's
cherry pie
craving a slice
of silence
1 August 2017: "the things" and "flowering thistles" appear in otata #20.
the things
that tear at me
thorny bramble
flowering thistles
caring for one generation
after another
~ ~ ~ ~ ~ ~ ~ ~
RECENT SALES AND ACCEPTANCES
13 November 2017: My haiga "not alone" will be published in Natural Awakenings Magazine this December.
3 November 2017: Haiku "slack tide" and oil painting "The Last Day" were accepted for the 14th issue of Gnarled Oak.
22 October 2017: "Demon" was sold to the June 2018 issue of Disturbed Digest and "Reflections" to Bloodbond.
16 October 2017: Weird poems "When We Fall", "Memoirs in the Dark", and "Cornflower Valley" were sold to Spectral Realms #8 and #9.
12 October 2017: Poem "Journey into Neptune" and black and white line art "Young Witch to Saturn" were sold to Star*Line.
11 October 2017: Tanka "at his funeral" was accepted to Moonbathing.
7 October 2017: My dark poem "Forest of Discarded Baby Girls" was sold to New Myths.
4 October 2017: Haiku "pulling myself" was accepted for the Winter 2017 issue of Akitsu Quarterly.
4 October 2017: Senryu "broken", "driftwood", "day moon", and "water hyacinth" were accepted for Prune Juice.
26 September 2017: My tanka "perfect storm" has been accepted for Skylark 5:2, Winter 2017.
14 September 2017: Sold drabble "The Future Conquerers" to Alban Lake Publishing's First Special Drabble Contest, Alien Bedtime Stories!
7 September 2017: Sold scifaiku "Gritting my Teeth", "All my Nightmares", "Missing", "Seeing Red" and tanka "Craving to see Blue Skies" to Scifaikuest.
1 September 2017: Sold watercolour painting, "Perched", scifaiku, "Clearing", "All that Remains", "Exhaling Fire", "Insomnia", and senryu, "Trying to be Nice" and "All the Craters" to the Scifaikuest November 2018 Print and Online issues.
22 August 2017: Haiku "death notice" was accepted for the summer issue of hedgerow #120.
16 August 2017: Haiga "Wondering" was sold to the August 2018 issue of Scifaikuest.
14 August 2017: Haiku "stardust", "dreaming", "giving up everything", "living", and "baby dreams" were accepted for Cha No Keburi.
7 August 2017: Sold 3 illustrations to Alban Lake Publishing: "Hanging Tree", "Arrows", and "A Tree in Hand".
~ ~ ~ ~ ~ ~ ~ ~
For 2017 news, click here, 2016 news, click here. For news between August 2014-December 2015, visit Archived News.