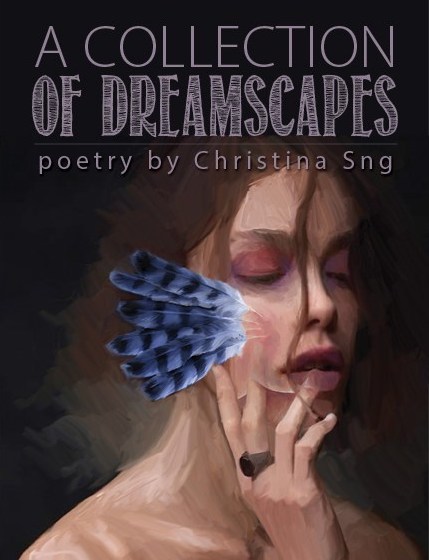 In A Collection of Dreamscapes, Christina Sng brings to life dark mythologies, fairy tales, a league of monsters, and a journey into the unfathomable depths of the human heart. This widely lauded follow-up to Sng's Bram Stoker award-winning volume, A Collection of Nightmares, has been described by reviewers as "a captivating collection that is not to be missed", "immersive, creepy, accessible", "a dream, dark and fantastic", "haunting, stunning, and poignant", and "a poetry collection every public library should own". Available from Raw Dog Screaming Press and Amazon.
~ ~ ~ ~ ~ ~ ~ ~ ~ ~ ~ ~
CONNECT:
Facebook
Twitter
Instagram
Medium


SUPPORT:
KO-FI:
Grab me a Coffee! :D
SOCIETY6:
Order my art prints at Society6.
PATREON:
My Patreon page features sneak peeks at works-in-progress, behind-the-scenes thoughts on my work, poems, art, haiku, plus signed limited cards and postcard poems to collect via snail mail!
If you'd like to support me on Patreon, do stop by and drop me some coin. Tiers begin from $1!
~ ~ ~ ~ ~ ~ ~ ~ ~ ~ ~ ~
Last updated: 10 October 2020
~ ~ ~ ~ ~ ~ ~ ~ ~ ~ ~ ~
2017 Bram Stoker Award® Winner, 2018 Elgin Award nominee, and one of LitReactor's Best Books of 2017, A Collection of Nightmares (Raw Dog Screaming Press) features a surreal dreamscape of seasonal creatures, bone carvers, listless gods, vengeful angels, post-apocalyptic survivors, and the end of all things good and evil. Available from Amazon and Raw Dog Screaming Press.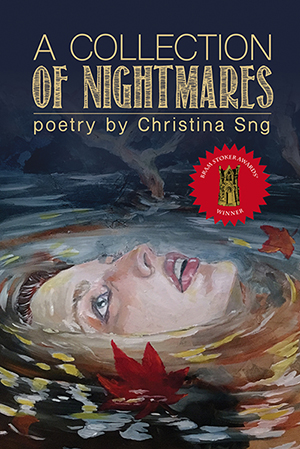 2018 Elgin Award runner-up Astropoetry (Alban Lake Publishing) celebrates the wonders and mysteries of space in scifaiku and lyrical prose. On sale from Amazon.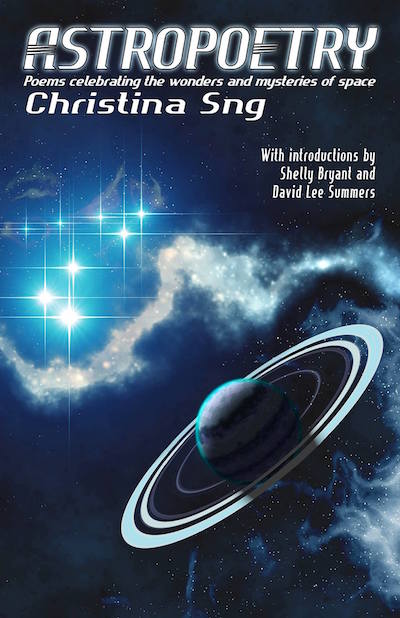 2017 Elgin Award nominee, An Assortment of Sky Things, is a poetic tour of the solar system and beyond in haiku and short poetry.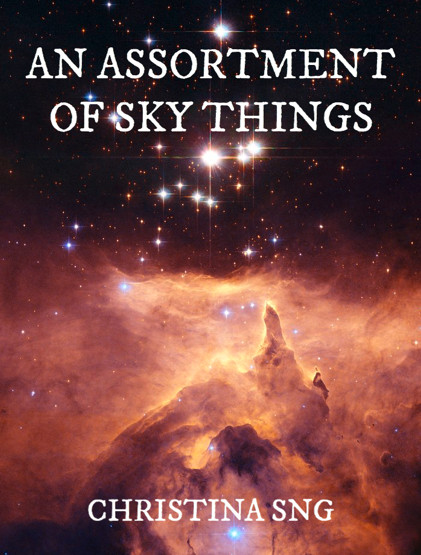 Catku takes us on a whimsical life journey between a cat and its human, a tale woven with 21 haiku and senryu based on my life with beloved cats. A must-have for all cat lovers.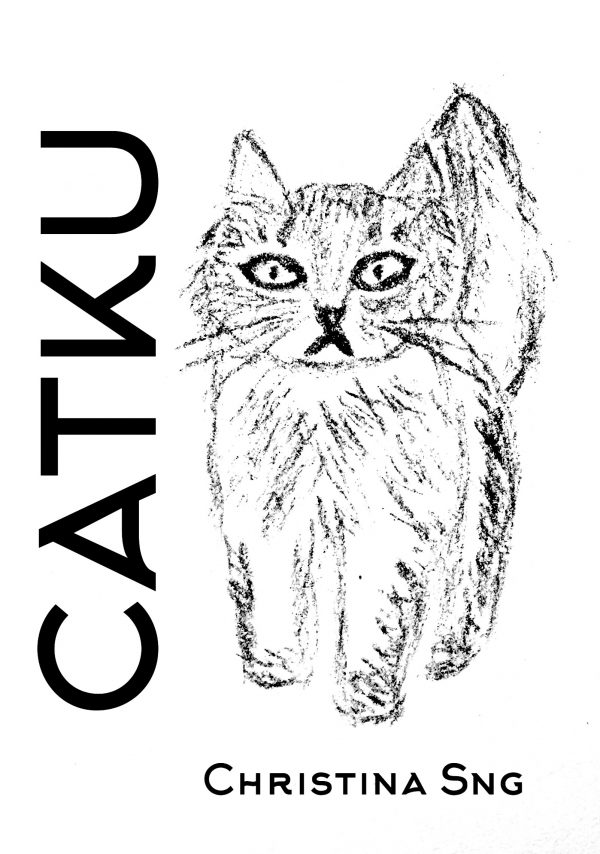 A Constellation of Songs, my first haiku collection, spans birth to death, illuminating the wonder and beauty of life in between. Available as a free PDF from the Origami Poems Project.
Dark Dreams is on sale as an eBook at Smashwords. The amazing cover is by Brian Hurtt, artist and co-creator of The Sixth Gun.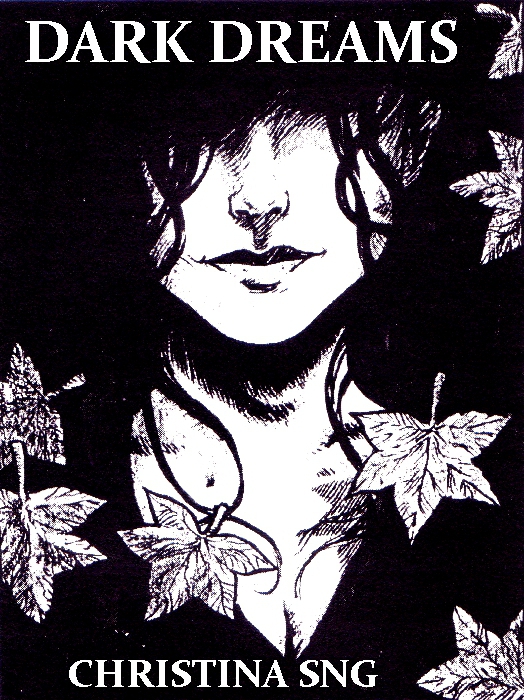 Christina Sng is the Bram Stoker Award-winning author of A Collection of Nightmares, Elgin Award runner-up Astropoetry, and A Collection of Dreamscapes. Her poetry, fiction, and art have appeared in numerous venues worldwide, and her poems have garnered multiple nominations in the Rhysling Awards, the Dwarf Stars, the Elgin Awards, as well as honorable mentions in the Year's Best Fantasy and Horror, and the Best Horror of the Year. Her latest book The Gravity of Existence is forthcoming in 2022.
~ ~ ~ ~ ~ ~ ~ ~ ~ ~ ~ ~ ~ ~ ~ ~ ~ ~
Poetry | Fiction | Art | Articles
~ ~ ~ ~ ~ ~ ~ ~ ~ ~ ~ ~ ~ ~ ~ ~ ~ ~
AWARDS, REVIEWS, FEATURES, INTERVIEWS, APPEARANCES
9 October 2020: My senryu "never" has been Highly Commended in the Fifth Annual H. Gene Murtha Senryu Contest.
never
trusting again
old shelter cat
3 October 2020: I'll be at C'monfluence 2020 this weekend!! Here's my schedule (Eastern Time):
10/03/2020 1:00 - 1:50 PM - SF/F Around the World
10/03/2020 2:30 - 2:55 PM - Reading
10/04 2:00 to 2:50 PM - Vogon Poetry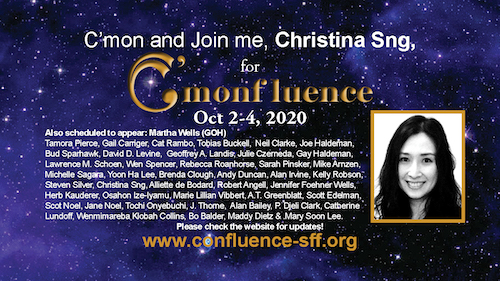 27 September 2020: Over the moon to see this incredible 5-star review of BLACK CRANES along with these lovely words from reviewer Eva Roslin: "I do want to give a special mention--having been a huge fan of Christina Sng's poetry for such a long time, it was a treat to see more of her long-form fiction, and her piece, "Fury," is impeccable."
26 September 2020: I am so happy and excited to announce that my book THE GRAVITY OF EXISTENCE has been acquired by Interstellar Flight Press! THE GRAVITY OF EXISTENCE is a collection of my best horrorku, scifaiku, fairy tale ku, and other terrifying tiny poems. Thank you so much, Holly and Saba!! I can't wait.
26 September 2020: Happy Book Birthday to BLACK CRANES, edited by Lee Murray and Gene Flynn! I am so thrilled to see my first novelette FURY in this incredible anthology, alongside these amazing women writers whose work I admire so much.
26 September 2020: My haiku "realizing" received a Haiku of Merit award in the Vanguard category of World Haiku Review Autumn 2020.
realizing
I want to lie
sunrise
25 September 2020: Fantastic review of BLACK CRANES in this review by Horror Bound: Black Cranes: Tales of Unquiet Women - Feminine Spirits Cannot Be Tamed!
"Fury by Christina Sng: A girl raised in the military attempts to withstand a pandemic of angry, hungry, and fast zombies while searching for a cure on behalf of her father. This story is both bleak and hopeful at the same time and I enjoyed it. It read like a good futuristic (although maybe the future is now with our own current pandemic) zombie film."
4 September 2020: This wonderful review of BLACK CRANES made my day, especially with a lovely mention of my novelette FURY:
"At the other end, style wise, Fury wraps up a what starts as a fairly familiar zombie story with a great female protagonist into a great thought provoking ending. As she overcomes the odds, is the goal she is aiming for what she is expecting?"
24 August 2020: Elated to see my first published article in decades, the first, I hope, of many to come!
"Today at Interstellar Flight Magazine, Christina Sng reviews STARGIRL, a new superhero series on the CW featuring a female lead role model and a hopeful message for the next generation in The Best Superhero TV Series to Watch with Your Daughter".
16 August 2020: Elated to see this fantastic review of A COLLECTION OF DREAMSCAPES in Rue Morgue by Shawn Macomber!!
"Is it possible to come away from the immersive, reality-refracting experience of Sng's A COLLECTION OF DREAMSCAPES possessing the same soul with which you entered? For your humble correspondent, the answer was an emphatic No!" Sng's follow-up to her also excellent 2017 volume A COLLECTION OF NIGHTMARES is an assemblage of poetry that drags you beyond the veil of everyday human existence, and then--employing deft literary allusions and a singular voice, fiery and vulnerable by turns--draws your consciousness into a transformative journey through the secret synergistic and esoteric web of the universe, as well as our strange (but real!) place in it.
"I want to consume/The wealth of centuries/Knowledge of the past and futures/Live in a time when possibilities/Become actualized," Sng writes in the poem "Beyond a Hundred Years" toward the end of DREAMSCAPES. "Not now/When hope is all we have/So put me on ice/And place my body in a spaceship/Send me into the void/Where one day greater intelligence may revive me/And ask, What was it like to wonder? And what was it like to die?" Sng offers us a taste of the answers to those questions--and it's well worth our investment."
14 August 2020: Overjoyed to see Brad Proctor's wonderful YouTube review of A COLLECTION OF DREAMSCAPES!
"Lyrically spellbinding. A COLLECTION OF DREAMSCAPES by Christina Sng from Raw Dog Screaming Press gives us a glimpse of conjured worlds both beautiful and desolate. Populated by the innocent and those whose innocence has crumbled away to reveal the writhing darkness within."
~ ~ ~ ~ ~ ~ ~ ~
LATEST RELEASES
10 October 2020: New essays in my Articles pages.
3 October 2020: Happy to see my essay My Cat Does More Than Sleep All Day on Catness!
1 October 2020: A true story that happened during the early hours of 30th September. I quickly wrote it up and sent it to Creatures. Immensely grateful they scheduled it for today. It's an important reminder for all of us to be careful with sticky paper around our little animal friends: I Saved a Lizard from a Sticky Wrapper.
27 September 2020: Happy to see my essay Who Will Care For Your Cat When You Go Away? in Creatures.
27 September 2020: It was a lovely experience writing a poem to my own painting! This month, I am so humbled and honoured to see my writer and poet friends conjure up magical worlds prompted by my art. Please pop by the Ladies of Horror Flash website below and read this month's poetry and fiction, including my poem "Love".
24 September 2020: My humorous flash fiction The Missing Sock appears in MuddyUm.
19 September 2020: So lovely to receive the Fall 2020 issue of Akitsu Quarterly with my 3 haiku, 1 pastel painting, and 2 Japanese brush paintings!
gentle rain
daubing iodine
on my cut
half moon
my sleeping cat
does not stir
lock down
the comforting feeling
of a full nest
18 September 2020: I'm so excited to see my essay Why You Should Adopt an Older Cat in Creatures.
5 September 2020: Thrilled to see my essay The Joys of Living with a Cat on Catness today!
1 September 2020: My digital ink painting "Friends" is on the cover of Shelter of Daylight!
28 August 2020: So happy to see my microfiction "Sunrise" in this month's Ladies of Horror Flash.
16 August 2020: My haiku "malaise" appears in The Cicada's Cry: A Micro Zine of Haiku Poetry -- Special Edition: Haiku in the Time of Coronavirus/Covid-19.
malaise
I let things slide
again
Over the moon to see my 2 poems "Metal Rain" and "A Paradigm of Magic" in Penumbric August 2k20 vol iv issue 2!
3 August 2020: Thrilled to share pages with so many incredible poets and fabulous artist Dan Sauer in Spectral Realms 13 from Hippocampus Press. My poem "All That I Have Lost" appears in this stunning issue.
~ ~ ~ ~ ~ ~ ~ ~
RECENT SALES AND ACCEPTANCES
1 October 2020: My drabble "One Day at Recess in the Convent of the Blessed Mother on Victoria Street" was sold to PROFESSOR CHARLATAN BARDOT'S TRAVEL ANTHOLOGY TO THE MOST (FICTIONAL) HAUNTED BUILDINGS IN THE WEIRD, WILD WORLD.
22 September 2020: Haiku "morning song" and "metronome" and Japanese brush painting "Pensive Cat" were accepted for the Spring 2021 issue of Akitsu Quarterly.
16 September 2020: "Life on Venus", "Eaten Alive", "After Escaping a Devastated Earth", "First Glimpse of Hell", and "Revelations" were sold to Scifaikuest.
16 September 2020: "All this Rain" was sold to Star*Line.
16 September 2020: "Turned", "Mom", and "Titan Life" were sold to the August 2021 Print issue of Scifaikuest.
7 September 2020: Poems "The End", "The Eternal Fire", "One Dark Night", "History of Our World", and paintings "Snowstorm", and "Starry Night" have been sold to Penumbric.
27 August 2020: "Safe" and "Fairies from the Twilight Forest" have been sold to Spectral Realms #14!
29 July 2020: My contemporary poem "Anaesthesia" will appear in the 2020 Poetry Marathon Anthology.
~ ~ ~ ~ ~ ~ ~ ~
For 2020 news, click here, 2019 news, click here, 2018 news, click here, 2017 news, click here, 2016 news, click here. For news between August 2014-December 2015, visit Archived News.
~ ~ ~ ~ ~ ~ ~ ~