Christina Sng is the Bram Stoker and Elgin Award-winning author of A Collection of Nightmares (Raw Dog Screaming Press, 2017) and Astropoetry (Alban Lake Publishing, 2017). Her work has appeared in numerous venues worldwide, translated into six languages, and garnered over 70 awards and nominations, including the 2018 Jane Reichhold International Prize, the 2016 Harold G. Henderson Award, and Honourable Mentions in the Year's Best Fantasy and Horror and the Best Horror of the Year.
~ ~ ~ ~ ~ ~ ~ ~ ~ ~ ~ ~
~ ~ ~ ~ ~ ~ ~ ~ ~ ~ ~ ~
AWARDS, REVIEWS, FEATURES, INTERVIEWS
28 November 2018: Wonderful review of A COLLECTION OF NIGHTMARES by book.happy on Instagram and Goodreads!
"Christina Sng writes beautifully, and she has put her heart into these poems...They had depth and emotion, and they were so descriptive. Many of the narrators of the poems seemed to be women, and it was easy to find things to relate to in this collection...there's such an intriguing variety in Christina's poetry that it was all enjoyable...A Collection of Nightmares would be a great introduction to someone who wants to try out horror poetry, but maybe doesn't want to get into super gory material yet. This book is definitely dark, but it's not as bleak as some others I have read. There's still some hope in these poems even though they are focused on nightmares."
25 November 2018: A fantastic review of ASTROPOETRY and A COLLECTION OF NIGHTMARES by Luke Forney in the Fall 2018 issue of Star*Line!
"One could argue that the very nature of haiku, senryu, and other short poetic forms is to capture an essence and then deliver a twist. In Astropoetry: Poems Celebrating the Wonders and Mysteries of Space, Christina Sng exceeds and surpasses this, frequently starting with a twist and then delivering another. Even more essential to Astropoetry's success, beyond its technical acumen and deeply thought-out premises, is Sng's sense of humor, particularly around Halloween. This sense of joy mixes with the mystery and awe of humanity moving beyond Earth. Astropoetry captures the enormous scope of astronomical travel by layering its poems in the order of distance from the sun, out. We watch as humans take their first stab at colonization, and we see the beauty of the enormous astronomical bodies that ravage distant space.
With A Collection of Nightmares: Even the Most Exquisite Dreams Turn Dark, Sng spends much more time in longer-form poetry, but the twists of both theme and execution are even stronger than those of Astropoetry. As opposed to the previous collection, which demonstrated a sense of optimism and wonder in the face of a dangerous universe, A Collection of Nightmares spends more time exploring people trapped with their darkness...Sng's sense of humor is still present in A Collection of Nightmares, but here it takes the form of gallows humor of the darkest stylings...how these darkest ironies hold the strongest kernels of truth within them.
Astropoetry and A Collection of Nightmares both demonstrate, at their core, Sng's thematic concerns of human agency. Our ability to succeed, our capacity to fail, and the bounds on both. And within that framework, Sng both places the reader as a human in a vast universe of space and of fear, and reminds us that even when surrounded by this vastness, being human matters."
5 November 2018: My haiga "promising me" has won First Prize in the Third Annual Jane Reichhold Memorial Haiga Competition and "still swarming around" received an Honourable Mention!!
Thank you so much to the judges, Ron C. Moss and Steve Hodge for this incredible honour! I am deeply grateful to them for making this possible.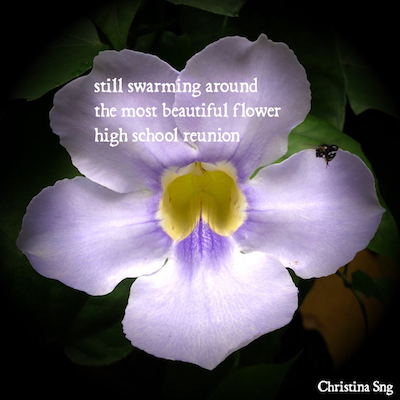 Judge's comments on "promising me":
"Simple, effective, and powerful, these are the first things that come to mind when I first saw this very effective haiga.
Many of the traditional components are there, from the light simple touch of the brushwork, to the sparse but emotional senryu that resonates deeply.
We see the ants crossing what looks like a stick over a puddle, which is a lovely link to finding the way and a promise of hope.
This haiga reminded me a lot of the classic ink paintings and their ability to say so much in a few deft strokes and not overwhelm but compliment the words."
~ ~ ~ ~ ~ ~ ~ ~
LATEST RELEASES
3 December 2018: My haiku sequences "Love Game" and "Housewife", and short poem "Girl on Fire" appear in the Shanghai Literary journal Alluvium. This is my first time published in China! :D
30 November 2018: Contributor copies of Star*Line 41.4 arrived today. Inside, my poems "The Warrior Mephala", "Legacies", painting "Happiest Childhood Memories", and a fantastic review of ASTROPOETRY and A COLLECTION OF NIGHTMARES by Luke Forney.
30 November 2018: Lovely to see my 5 haiku in otata #36!
hummingbird
hovering on my hibiscus
Parkinson's
sakura leaves
fluttering around me
butterfly rain
going downhill
with malfunctioning brakes
just one glass of wine
half-moon
of my thumb
Mt Olympus
a fallen tree
resting on another
mother's arms
30 November 2018: My story "The Old Bones" appears in the Ladies of Horror Flash Project!
28 November 2018: November editions of A Sense of Place:
red light
I absently step off
the sidewalk
the warmth
of my daughter's hand
new hiking trail
the taste
of freedom
solo hike
the scent
of baby's breath
family hike
26 November 2018: My poem "Dark Dragons" appears in Silver Blade Issue 40.
23 November 2018: My haiku "king tide" and "a long pause" appear in the Winter 2018 issue of Akitsu Quarterly.
king tide
turtle hatchlings
riding the waves
a long pause
between words
evening still
8 November 2018: Happy to see my 6 poems in Scifaikuest!
exhaling fire
he burns his halo
demonangel
insomnia
orbiting
Antares
seeing red
all day
Antares orbit
all the craters
look alike
broken gps
all my nightmares
saved in the dream catcher
I hang it over your bed
craving to see blue skies
and green grass again
these long years in space
Titan's ice mountains
pale in comparison
5 November 2018: "peeling away", "the dizzying spin", and "another promise" appear in Prune Juice:
peeling away
my many layers
navel orange
the dizzying spin
of our carnival ride
first love
another promise
to keep your promises
dissipating wind
4 November 2018: "Stations of the Cross" and "autumn leaf" appear in otata 35:
Stations of the Cross
we talked arm in arm
about our life story
autumn leaf
finally I know
my place
2 November 2018: Glad to be in today's Asahi Shimbun with a haiku remembering sweet moments with my little son:
baby's first car ride
we sing wheels on the bus
all day long
2 November 2018: My poem "Obsession" appears in the Ladies of Horror Flash Project.
1 November 2018: Elated to see my two digital paintings "Daybreak" and "World Catcher" alongside my tanka "how I weep" in Colorado Boulevard's Poetry Corner on Seeing the World Differently, curated by the wonderful Kathabela Wilson.
how I weep
for the leaves
fallen and dried
yet they return in spring
to live again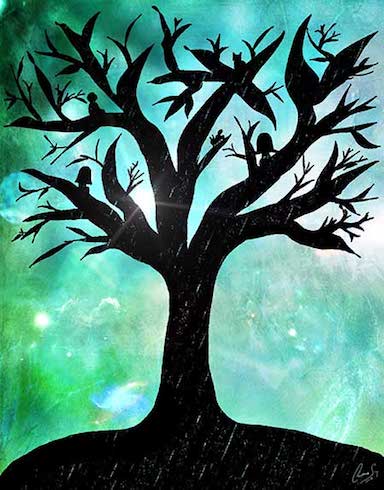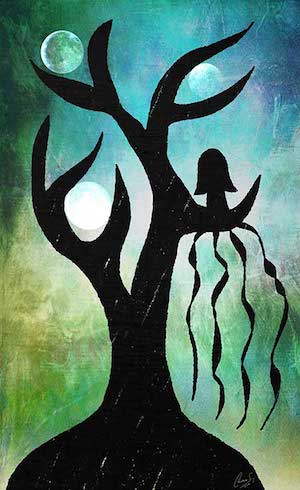 1 November 2018: I'm so delighted to be a part of The Cicada's Cry Special Digital Edition Halloween 2018:
trick or treating
we all get a witch's hat
even the cat
1 November 2018: Happy to be among friends in this week's A Sense of Place:
deep forest trail
the search party follows
my pup's excited yelps
~ ~ ~ ~ ~ ~ ~ ~
RECENT SALES AND ACCEPTANCES
1 December 2018: Haiku "not a dragon" was accepted for the Spring 2019 issue of Akitsu Quarterly.
29 November 2018: Horrorku "Fissures in the Skin" and "Tidal Waves" were sold to the February 2020 Online issue of Scifaikuest.
14 November 2018: Flash fiction "The Division of Twins", poems "Like Birds in the Shimmering Clouds", "Girl on Fire", and, haiku sequences "Wild Rose", "Girlhood", "Love Game", "Housewife" were accepted to Alluvium. They will appear on the 3rd and 10th of December.
6 November 2018: Horrorku "Pack of Werewolves", "The Second", and tanka "Seeing you Both" were sold to Scifaikuest.
4 November 2018: "Dark Dragons" was sold to Silver Blade Issue 40, out this November.
~ ~ ~ ~ ~ ~ ~ ~
For 2018 news, click here, 2017 news, click here, 2016 news, click here. For news between August 2014-December 2015, visit Archived News.