Christina Sng is the Bram Stoker and Elgin Award-winning author of A Collection of Nightmares (Raw Dog Screaming Press, 2017) and Astropoetry (Alban Lake Publishing, 2017). Her work has appeared in numerous venues worldwide, translated into six languages, and garnered over 70 awards and nominations, including the 2018 Jane Reichhold International Prize, the 2016 Harold G. Henderson Award, and Honourable Mentions in the Year's Best Fantasy and Horror and the Best Horror of the Year.
~ ~ ~ ~ ~ ~ ~ ~ ~ ~ ~ ~
~ ~ ~ ~ ~ ~ ~ ~ ~ ~ ~ ~
AWARDS, REVIEWS, FEATURES, INTERVIEWS
22 December 2018: My story "A Dream of Dragons" has won the Folded Word Nautical Twilight PM Winter Solstice Series Selection for 2018!
20 December 2018: Over the moon to receive Second Place in Haiku University's Weekly Haiku Contest from the 10th to 16th of December.
thunderstorm
the agony of a first tooth
Commentary from judge Nicholas David Klacsanzky: "The shape of the lightning and the tooth has a "striking" similarity, if I may use a pun. But here the sound of the storm is more focused on, and we can almost hear the agony of the person who has his or her first tooth coming in. Thunderstorms almost seem supernatural in their power and epicness, and even though a tooth is much smaller than a storm, it can definitely seem like one!"
7 December 2018: Lovely Q&A with Tammy Walker on space, celestial objects, and my Elgin Award-winning collection, Astropoetry: Q&As with Speculative Poets: Christina Sng
~ ~ ~ ~ ~ ~ ~ ~
LATEST RELEASES
31 January 2019: Happy to see my art "Worlds Collide" and "Lies the Tree Told", poem "Life on Uranus", tanka "Lost Twin" and "After Hypnotherapy", scifaiku "Pets", "The Feeling", "Burying the Alien" and "Immortality", and fantasy ku "Even as Queen" in Star*Line 42.1.
30 January 2019: My horror flash "How It Began" is live now at the Ladies of Horror Flash Project.
24 January 2019: In the January 2019 issue of Stardust Haiku:
snowy fox
a flash of light
in the darkness
23 January 2019: This month's Haiku Dialogues:
dinnertime
at the picnic table
an ant family
roof snow
the precariousness
of our situation
spring bloom
my daughter dresses
for her prom
4 January 2019: Happy to be in today's issue of the Asahi Shimbun!
cold moon
wrapping grandma
in blankets
27 December 2018: In December's A Sense of Place:
barefoot on the
scorching sidewalk
involuntary dance
a lick for you
and a lick for me
ice cream with puppy
a cat
tracking a rat
city sidewalk
the sound
of two cats fighting
alley brawl
23 December 2018: My dark tale "The Execution" is live now at the Ladies of Horror Flash Project.
21 December 2018: My contributor's copy of Spectral Realms #9 arrived today with this breathtaking cover by Dan Sauer and my 3 poems "Cornflower Valley", "The Vampire's Mother", and "The Mermaid". #9 also features the poetry of Frank Coffman, Ashley Dioses, Allan Rozinski, David B. Harrington, Wade German, Adam Bolivar, Leigh Blackmore, Deborah Davitt, and many more. Ordering information in comments. This issue is dedicated to Michael Fantina.
19 December 2018: Delighted to see my 3 poems and brush painting "Parallel Worlds" in this week's edition of Colorado Boulevard.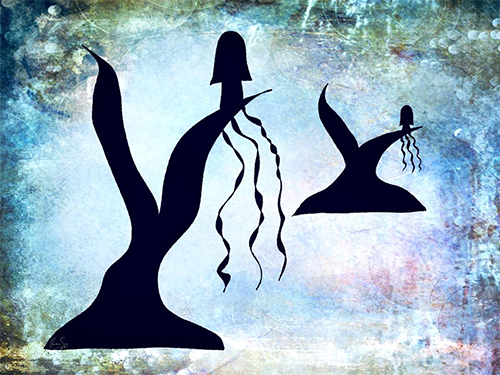 in each cloud
I search for
the silver lining
choosing to see
the good in everything
a deep breath
in and out
glad to be alive
for another day
the dispersion
of dandelions
all that
I am grateful for
all that I love
the silver linings
in clouds
Some turtle hatchlings were eaten by predators; others made it to safety. Which side of the story do we choose to see? The cruelty of nature or the triumphant victories?
15 December 2018: My flash fiction "Hellava Journey" appears in New Myths #45.
12 December 2018: Proud and happy to see my Rhysling-nominated poem "Twenty Years" in Passages: Best of NewMyths Anthology, Volume I alongside such incredible company!
10 December 2018: My microflash "The Division of Twins", poem "Like Birds in the Shimmering Clouds", and 2 haiku sequences "Wild Rose" and "Girlhood" in the Shanghai Literary journal Alluvium.
6 December 2018: Lovely to be a part of Colorado Boulevard's Dreamscapes:
childhood home
in every shadow
I see monsters
every morning
dragons adrift
in the clouds
in my hands
millions of micro universes
seaside sand
Dreaming is magical. While we sleep, we conjure possibilities out of impossibilities, the extraordinary out of the ordinary, and we show ourselves how we can be more than we are.
4 December 2018: Elated to see "autumn wedding" in NHK World Japan's Haiku Masters today!
autumn wedding
the bride's heels sink
into dried leaves
3 December 2018: My haiku sequences "Love Game" and "Housewife", and short poem "Girl on Fire" appear in the Shanghai Literary journal Alluvium. This is my first time published in China! :D
~ ~ ~ ~ ~ ~ ~ ~
RECENT SALES AND ACCEPTANCES
11 January 2019: My Japanese brush painting "Journey" and haiku "all the dogs" will appear in the Summer 2019 issue of Akitsu Quarterly.
2 January 2019: Horrorku "Snowy Plains" and tanka "Whispered Words" and "Every Lover" were sold to Scifaikuest. They will appear in the February 2020 issue.
29 December 2018: My haiku "never certain" will appear in the Winter 2018 edition of The Cicada's Cry.
18 December 2018: My flash fiction "The Goblin" was sold to Daily Science Fiction!
9 December 2018: My brush painting "All the Ink in My Blood" will be the cover for the February 2019 online issue of Scifaikuest!
1 December 2018: Haiku "not a dragon" was accepted for the Spring 2019 issue of Akitsu Quarterly.
~ ~ ~ ~ ~ ~ ~ ~
For 2018 news, click here, 2017 news, click here, 2016 news, click here. For news between August 2014-December 2015, visit Archived News.