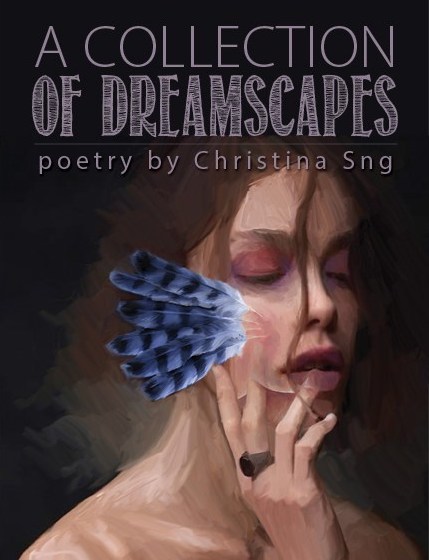 In A Collection of Dreamscapes, Christina Sng brings to life dark mythologies, fairy tales, a league of monsters, and a journey into the unfathomable depths of the human heart. This widely lauded follow-up to Sng's Bram Stoker award-winning volume, A Collection of Nightmares, has been described by reviewers as "a captivating collection that is not to be missed", "immersive, creepy, accessible", "a dream, dark and fantastic", "haunting, stunning, and poignant", and "a poetry collection every public library should own". Available from Raw Dog Screaming Press and Amazon.
~ ~ ~ ~ ~ ~ ~ ~ ~ ~ ~ ~
CONNECT:
Facebook
Twitter
Instagram
Medium


SUPPORT:
KO-FI:
Grab me a Coffee! :D
SOCIETY6:
Order my art prints at Society6.
PATREON:
My Patreon page features sneak peeks at works-in-progress, behind-the-scenes thoughts on my work, poems, art, haiku, plus signed limited cards and postcard poems to collect via snail mail!
If you'd like to support me on Patreon, do stop by and drop me some coin. Tiers begin from $1!
~ ~ ~ ~ ~ ~ ~ ~ ~ ~ ~ ~
Last updated: 1 November 2020
~ ~ ~ ~ ~ ~ ~ ~ ~ ~ ~ ~
2017 Bram Stoker Award® Winner, 2018 Elgin Award nominee, and one of LitReactor's Best Books of 2017, A Collection of Nightmares (Raw Dog Screaming Press) features a surreal dreamscape of seasonal creatures, bone carvers, listless gods, vengeful angels, post-apocalyptic survivors, and the end of all things good and evil. Available from Amazon and Raw Dog Screaming Press.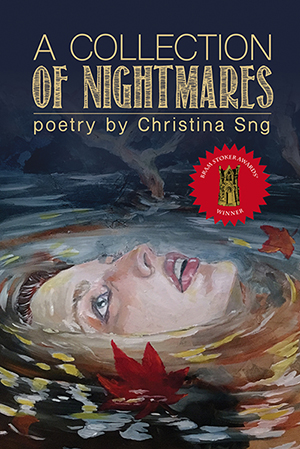 2018 Elgin Award runner-up Astropoetry (Alban Lake Publishing) celebrates the wonders and mysteries of space in scifaiku and lyrical prose. On sale from Amazon.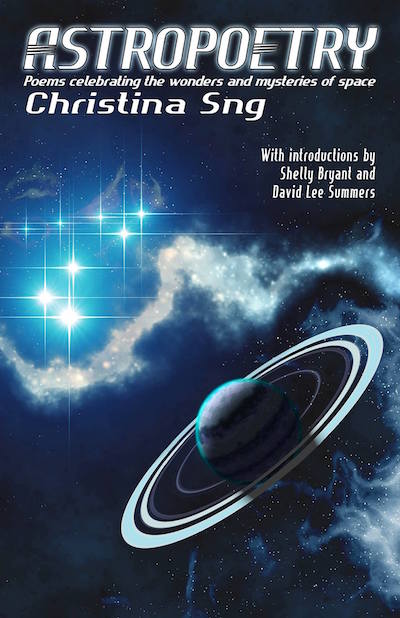 2017 Elgin Award nominee, An Assortment of Sky Things, is a poetic tour of the solar system and beyond in haiku and short poetry.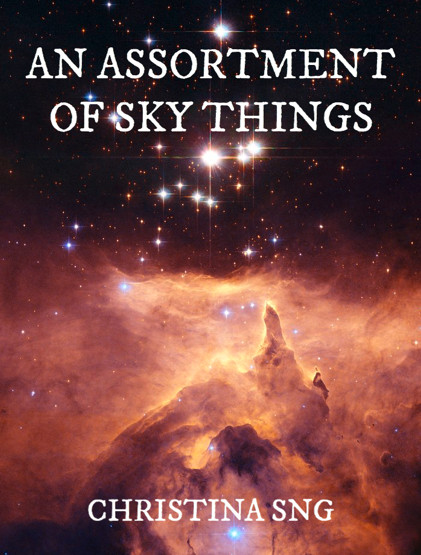 Catku takes us on a whimsical life journey between a cat and its human, a tale woven with 21 haiku and senryu based on my life with beloved cats. A must-have for all cat lovers.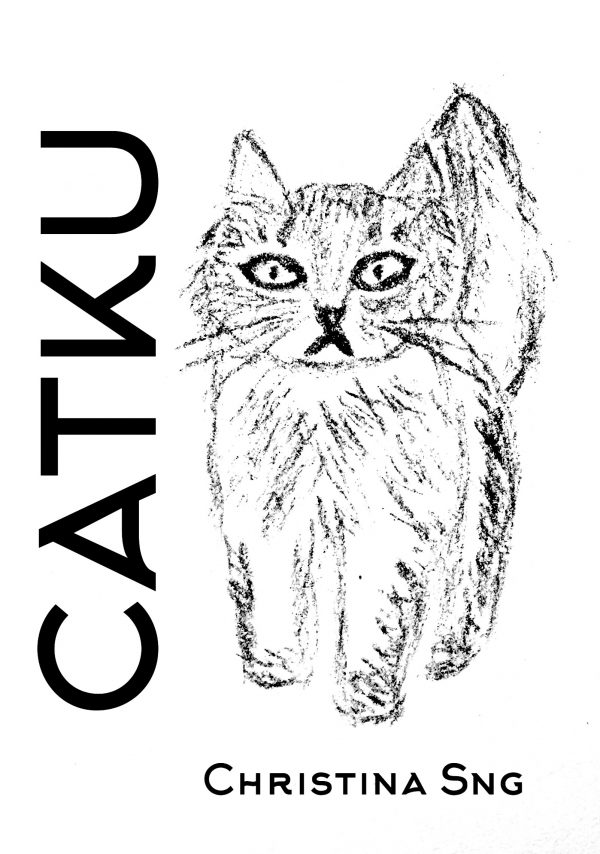 A Constellation of Songs, my first haiku collection, spans birth to death, illuminating the wonder and beauty of life in between. Available as a free PDF from the Origami Poems Project.
Dark Dreams is on sale as an eBook at Smashwords. The amazing cover is by Brian Hurtt, artist and co-creator of The Sixth Gun.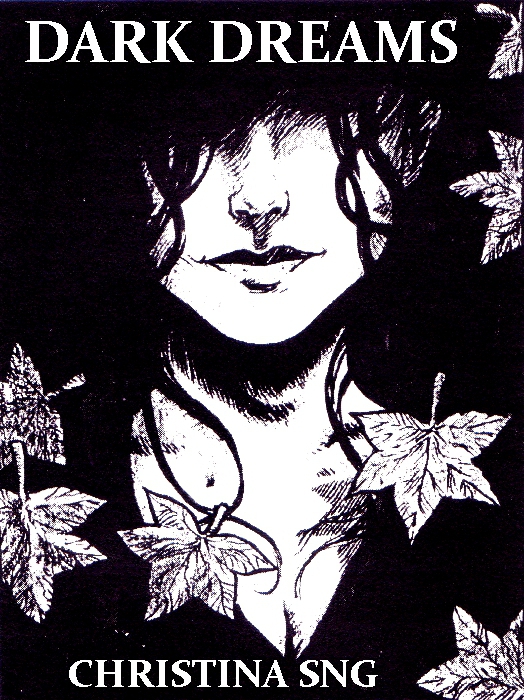 Christina Sng is the Bram Stoker Award-winning author of A Collection of Nightmares, Elgin Award runner-up Astropoetry, and A Collection of Dreamscapes. Her poetry, fiction, and art have appeared in numerous venues worldwide, and her poems have garnered multiple nominations in the Rhysling Awards, the Dwarf Stars, the Elgin Awards, as well as honorable mentions in the Year's Best Fantasy and Horror, and the Best Horror of the Year. Christina's first novelette Fury appears this year in Black Cranes: Tales of Unquiet Womenand her next book of poems The Gravity of Existence is forthcoming in 2022.
~ ~ ~ ~ ~ ~ ~ ~ ~ ~ ~ ~ ~ ~ ~ ~ ~ ~
Poetry | Fiction | Art | Articles
~ ~ ~ ~ ~ ~ ~ ~ ~ ~ ~ ~ ~ ~ ~ ~ ~ ~
AWARDS, REVIEWS, FEATURES, INTERVIEWS, APPEARANCES
1 November 2020: A wonderful way to start November! My essay 5 Tips on Self-Healing During Tumultuous Times is on the front page of The Ascent and Make Writing Your Therapy has been published in Write Like a Girl! :D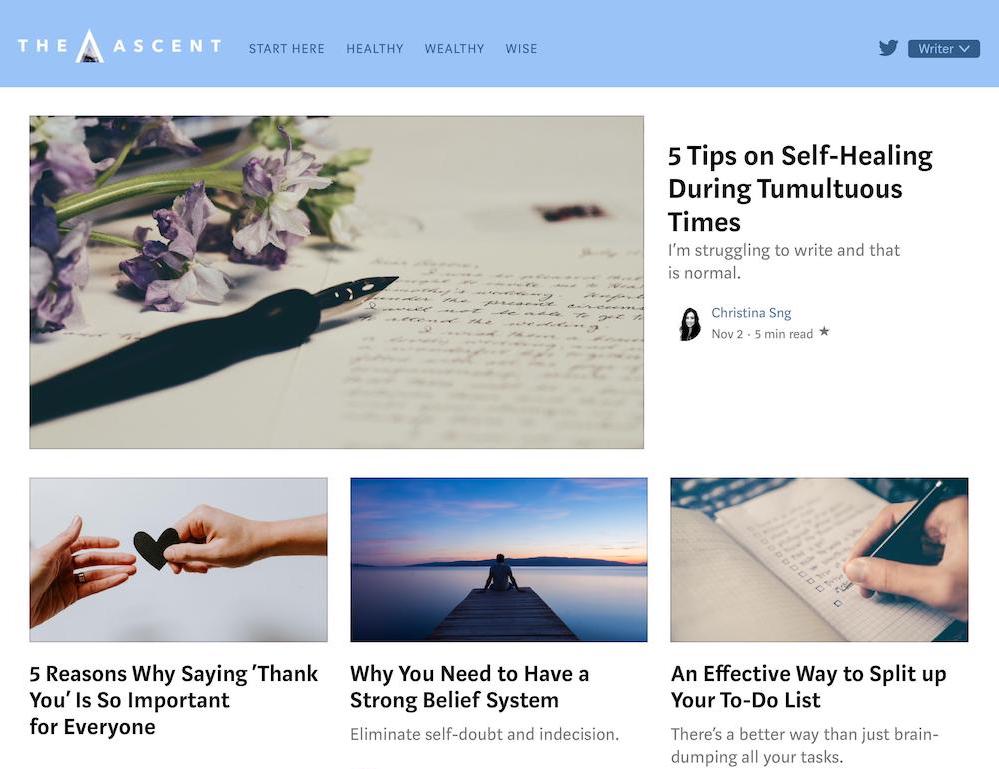 31 October 2020: It's a dream come true to be a part of this stellar lineup in the incredible anthology MIDNIGHT UNDER THE BIG TOP with my 4 poems "Magic Show", "The Clown", "Lucifer at the Carnival", and "Cages"!
~~
Venture inside Brian James Freeman's MIDNIGHT UNDER THE BIG TOP where your wide eyes and pounding heart will discover:
• the world's grandest tales of murder, madness, and magic set in and around the circus by renowned storytellers such as Stephen King, Joe Hill, Ray Bradbury, Richard Matheson, Neil Gaiman, Kelley Armstrong, Robert McCammon, Tananarive Due, Lisa Morton, Heather Graham, Richard Chizmar, Billy Chizmar, Amanda C. Davis, Nayad Monroe, Jeff Strand, Amanda Downum, Robert Brouhard, and Dominick Cancilla!
• the world's First-Ever Poetry Intermission featuring Norman Prentiss, G.O. Clark, Marge Simon, Bruce Boston, Robert Payne Cabeen, David E. Cowen, Alessandro Manzetti, Christina Sng, Stephanie M. Wytovich, K.A. Opperman, Ashley Dioses, and Terri Adamczyk!
• and for the grand finale, Josh Malerman, author of the New York Times bestseller Bird Box, will introduce you to Dandelion Andrews, a very unusual man who hasn't seen daylight in three months because he's digging a hole destined to become a most unusual carnival house of horrors!
These death-defying tales aren't for the faint of heart, but they are perfect for the long lost child deep inside of you who instinctively understands you should never trust a circus clown.
28 October 2020: Thrilled to be featured alongside these fantastic authors in Bookstr's 5x5!
20 October 2020: This fantastic review of A COLLECTION OF DREAMSCAPES completely made my day!! Thank you so much, Ben!!
"Her poems are beautiful and brutal, and you need to go read them right now."—Ben Long
9 October 2020: My senryu "never" has been Highly Commended in the Fifth Annual H. Gene Murtha Senryu Contest.
never
trusting again
old shelter cat
3 October 2020: I'll be at C'monfluence 2020 this weekend!! Here's my schedule (Eastern Time):
10/03/2020 1:00 - 1:50 PM - SF/F Around the World
10/03/2020 2:30 - 2:55 PM - Reading
10/04 2:00 to 2:50 PM - Vogon Poetry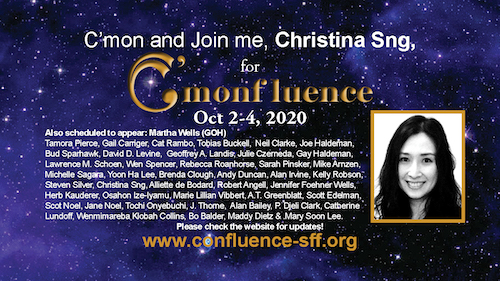 ~ ~ ~ ~ ~ ~ ~ ~
LATEST RELEASES
31 October 2020: Super excited to see my essay Poltergeist Revisited in Interstellar Flight Magazine just in time for Halloween!
26 October 2020: Happy to see my poem "Mountain" in this month's Ladies of Horror Flash Project!
24 October 2020: Elated to see my essay Final Girl: A Life in Horror in Interstellar Flight Magazine today!
"Christina Sng discusses growing up as a horror fan and what the final girl means to her."
12 October 2020: So happy to see my watercolor painting "Snowstorm" in the October 2k20 issue of Penumbric!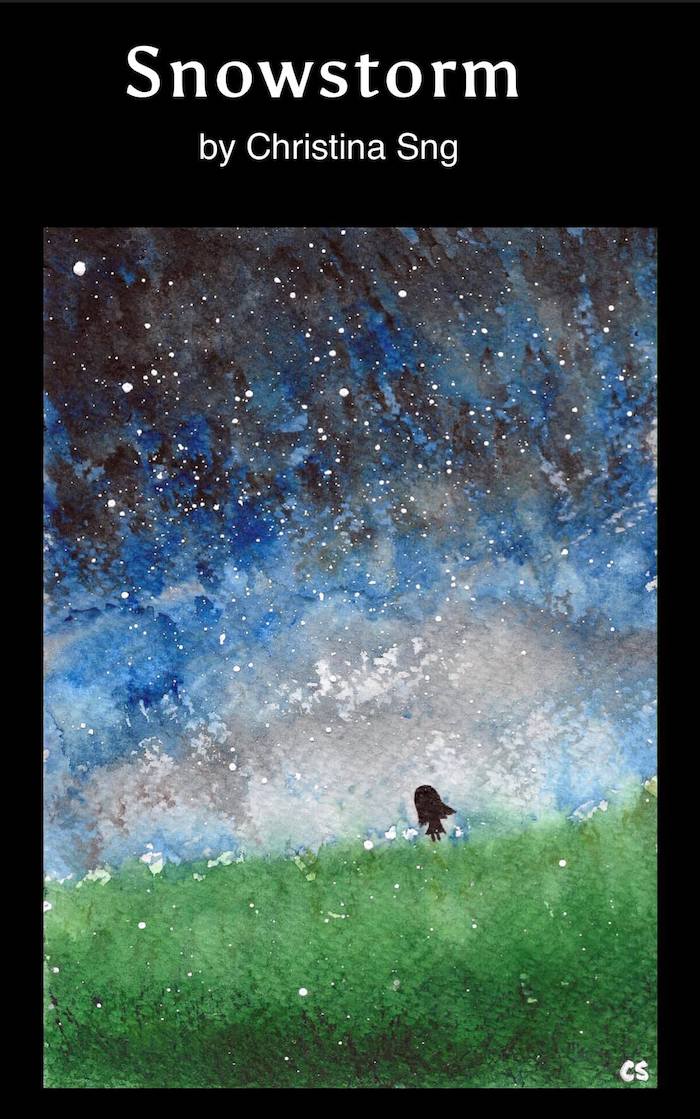 3 October 2020: Happy to see my essay My Cat Does More Than Sleep All Day on Catness!
1 October 2020: A true story that happened during the early hours of 30th September. I quickly wrote it up and sent it to Creatures. Immensely grateful they scheduled it for today. It's an important reminder for all of us to be careful with sticky paper around our little animal friends: I Saved a Lizard from a Sticky Wrapper.
~ ~ ~ ~ ~ ~ ~ ~
RECENT SALES AND ACCEPTANCES
1 October 2020: My drabble "One Day at Recess in the Convent of the Blessed Mother on Victoria Street" was sold to PROFESSOR CHARLATAN BARDOT'S TRAVEL ANTHOLOGY TO THE MOST (FICTIONAL) HAUNTED BUILDINGS IN THE WEIRD, WILD WORLD.
~ ~ ~ ~ ~ ~ ~ ~
For 2020 news, click here, 2019 news, click here, 2018 news, click here, 2017 news, click here, 2016 news, click here. For news between August 2014-December 2015, visit Archived News.
~ ~ ~ ~ ~ ~ ~ ~