2017 Bram Stoker Award® Winner, 2018 Elgin Award nominee, and one of LitReactor's Best Books of 2017, A Collection of Nightmares (Raw Dog Screaming Press) is a poetic feast of sleeplessness and shadows, an exquisite exhibition of fear and things better left unsaid. Available from Amazon.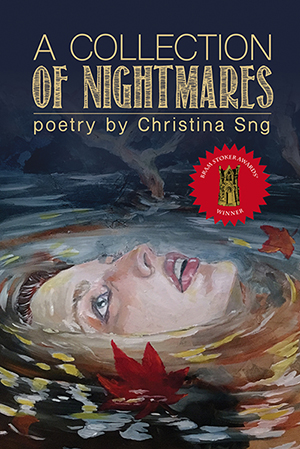 2018 Elgin Award Winner Astropoetry celebrates the wonders and mysteries of space in scifaiku and lyrical prose. On sale from Alban Lake Publishing.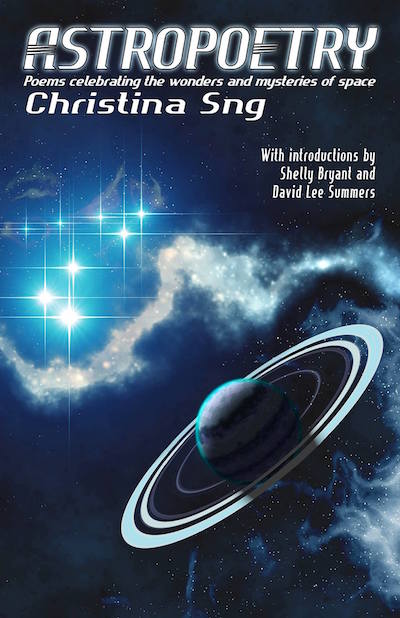 2017 Elgin Award nominee, An Assortment of Sky Things, is a poetic tour of the solar system and beyond in haiku and short poetry.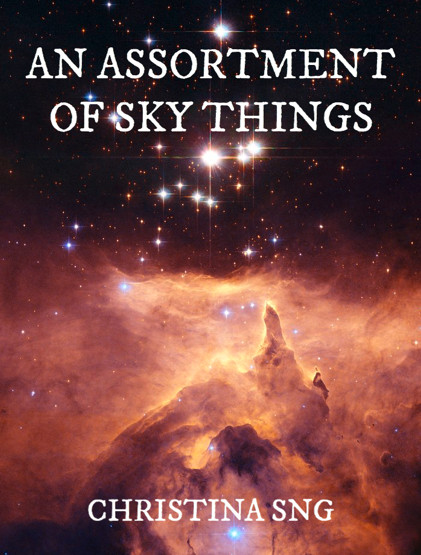 Catku takes us on a whimsical life journey between a cat and its human, a tale woven with 21 haiku and senryu based on my life with beloved cats. A must-have for all cat lovers.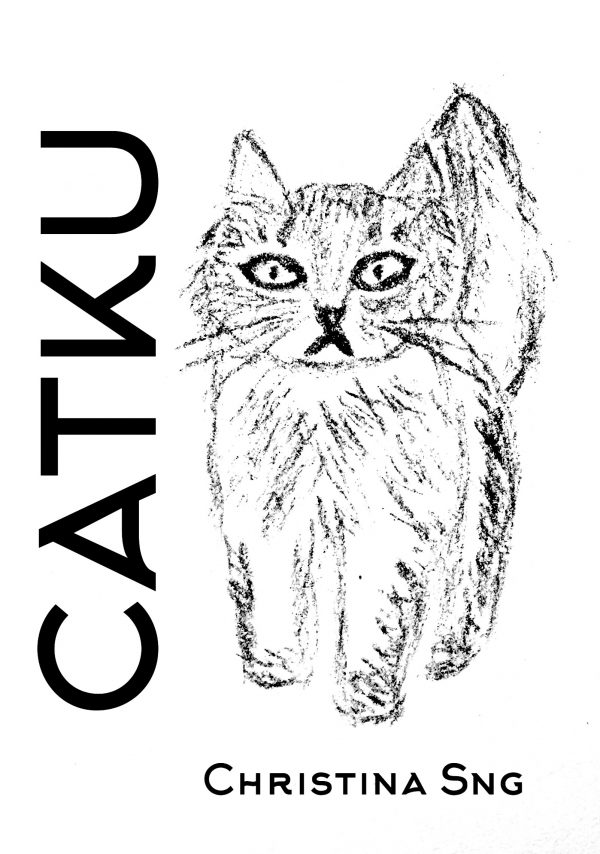 A Constellation of Songs, my first haiku collection, spans birth to death, illuminating the wonder and beauty of life in between. Available as a free PDF from the Origami Poems Project.
Dark Dreams is on sale as an eBook at Smashwords. The amazing cover is by Brian Hurtt, artist and co-creator of The Sixth Gun.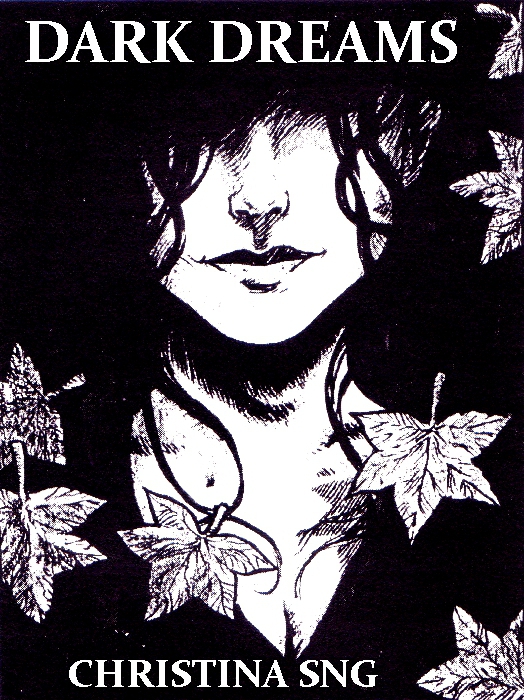 Christina Sng is the Bram Stoker Award® and Elgin Award-winning author of A Collection of Nightmares (Raw Dog Screaming Press, 2017) and Astropoetry (Alban Lake Publishing, 2017).
Her poetry, fiction, and art have appeared in numerous venues worldwide and garnered over 70 awards and nominations, including the 2018 Jane Reichhold International Prize and Honourable Mentions in the Year's Best Fantasy and Horror and the Best Horror of the Year.
~ ~ ~ ~ ~ ~ ~ ~ ~ ~ ~ ~
~ ~ ~ ~ ~ ~ ~ ~ ~ ~ ~ ~
AWARDS, REVIEWS, FEATURES, INTERVIEWS
26 September 2018: I'm featured in Speculative Chic's My Favorite Things!
21 September 2018: ASTROPOETRY won second place in the Elgin Awards!! I'm over the moon!
Thank you so much to the Science Fiction Poetry Association for this incredible honour! I'm deeply grateful to everyone who made time to read my book and loved it enough to vote for it.
A million thanks to my publisher Alban Lake for always believing in my work and supporting me over years, and to Mitchell Davidson Bentley for his mesmerizing cover.
A special thank you to David Lee Summers, Shelly Bryant, Marge Simon, Theresa Santitoro, Mike Allen, Linda D Addison, John Reinhart, F.J. Bergmann, Charles Christian, and my many friends and colleagues who have been to the stars and back with me. This collection would not have been possible without you.
10 September 2018: My fairy tale haiku sequence "Little Red in Haiku", which first appeared in Star*Line 40.4 last year, has received an Honourable Mention in the Best Horror of the Year Volume Ten!!! I am stunned and overjoyed and can't stop beaming at my computer. Thank you so much for this incredible honor, Ms Datlow!
LITTLE RED IN HAIKU
flash of red
through the woods
alarums
old goat
tougher than expected
long lunch
sweetness
of maraschino cherries
baby smells
roleplaying
another species
something new
calmness
tenderizes the meat
grandma not grandma
clear anomalies
the sharpness of teeth
and claws
the speed
of younglings
chest arrow
her sobs
as he fades to black
grandma bones uncovered
~ ~ ~ ~ ~ ~ ~ ~
LATEST RELEASES
17 October 2018: In this week's A Sense of Place:
a touch of dew
on the strawberries
picking season
17 October 2018: My haiku and tanka featured in the Colorado Boulevard Poetry Corner on Calm Waters:
Living in the city, there's little escape from the din, save for the night when all is quiet and calm. Those are the hours I feel most at peace, a much needed time to rest and recharge before another day envelops us again.
my constant
need for quiet
thunderstorm
asleep
at the bottom
of the sea
I envy the shark
in its quiet place
15 October 2018: My drabble, "The Evolution of Extraordinary Creatures" appears in Drabble Harvest #11-Unnatural Wildlife Handbook.
12 October 2018: "The Many Lives of Swan Everly", one of my favourite flash fictions, appears in the October issue of Outposts of Beyond.
10 October 2018: In A Sense of Place:
the taste of dew
on our parched tongues
deep meadow
9 October 2018: My drabbles, "The Girl in the Mirror" and "The Fast Draw" appear in Drabbledark II.
3 October 2018: In this week's A Sense of Place:
finding us
in lush meadow
our blind dog
2 October 2018: Thrilled to see my poem "Mission to Mercury" in the latest issue of Abyss & Apex!
~ ~ ~ ~ ~ ~ ~ ~
RECENT SALES AND ACCEPTANCES
17 October 2018: My digital paintings "Dreams of Another World" and "Inside" were sold to Scifaikuest for their February 2020 print and online covers, respectively.
13 October 2018: Scifaiku "The Feeling" and "Pets" and my digital art "Worlds Collide" were sold to Star*Line.
11 October 2018: Tanka "No Monsters", "Slow Boat to the Stars", "Living an Eternity", and joined poem "All Hallows Eve" were sold to Scifaikuest.
7 October 2018: "The Island" and "Light at the End of the Tunnel" were sold to Spectral Realms #10.
~ ~ ~ ~ ~ ~ ~ ~
For 2018 news, click here, 2017 news, click here, 2016 news, click here. For news between August 2014-December 2015, visit Archived News.