Christina Sng is the Bram Stoker Award-winning author of A Collection of Nightmares (Raw Dog Screaming Press, 2017). Her poetry, fiction, and art have appeared in numerous venues worldwide, receiving accolades such as the Jane Reichhold International Prize, nominations in the Rhysling Awards, the Dwarf Stars, the Elgin Awards, and honourable mentions in the Year's Best Fantasy and Horror, and the Best Horror of the Year.
~ ~ ~ ~ ~ ~ ~ ~ ~ ~ ~ ~
~ ~ ~ ~ ~ ~ ~ ~ ~ ~ ~ ~
AWARDS, REVIEWS, FEATURES, INTERVIEWS
16 September 2019: Blown away to discover that 4 of my poems have made the Recommended List for the Best Horror of the Year Volume Eleven! My deepest gratitude to Ellen Datlow for this incredible honour.
Sng, Christina "Memoirs in the Dark," Spectral Realms No. 8.
Sng, Christina "The Girl and Her Wolf Dog," Spectral Realms No. 8.
Sng, Christina "The Joy of Sewing," HWA Poetry Showcase Volume V.
Sng, Christina "The Mermaid," Spectral Realms No. 9.
15 September 2019: Never would I have ever imagined a poem of mine would be discussed and thoughtfully analyzed for 20 minutes on a podcast but it was! :D
A huge thank you to Anton Cancre and Sarah Hans for their thoroughly enjoyable and brilliantly witty conversation about my poem "The Dissection" and to Jason Sizemore and Bianca Spriggs for first publishing it in Apex Magazine.
Check out the podcast here.
11 September 2019: Thrilled to announce that Raw Dog Screaming Press will be publishing my next book A COLLECTION OF DREAMSCAPES in 2020!
8 September 2019: My 2-line haiku "setting sun" has been selected as one of Haiku University's Weekly Best for the week of 19-25 August 2019!! Many grateful thanks to judge Soucramanien Marie!
setting sun
grandma lies on her bed
Judge's commentary:
Beautiful and touching. A great love for her grandmother. We understand well the parallel that is made between L1 and L2 which makes this haiku very moving.
26 August 2019: Over the moon to see my poem "Volition" in The Fox Poetry Box!! I can't stop beaming! :D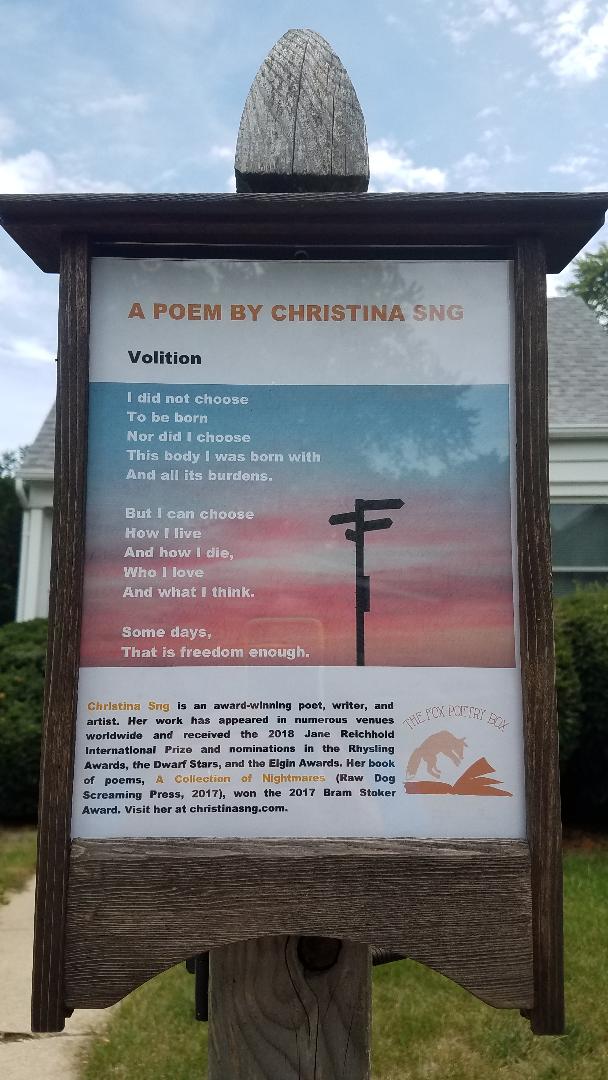 21 August 2019: Elated that my haiku "summer rain" has been selected as one of the Haiku University's Weekly Best from June 24 to 30, 2019 by judge Soucramanien Marie!
summer rain
we open all the windows
Judge's commentary: "The summer rain is always welcome when it's a scorching heat. I really liked the image of this haiku. When we welcome someone, we open our house. Here we find this beautiful dose of freshness."
5 August 2019: My flash fiction "Adventure in the Worm Hole" won the Tales of the Moonlit Path "Bugs" Contest!
~ ~ ~ ~ ~ ~ ~ ~
LATEST RELEASES
19 September 2019: Happy to see my haiku in this week's Haiku Dialogue amongst friends.
art therapy
I pour my anxieties
onto the canvas
19 September 2019: My 3 scifaiku and 1 horrorku appear in the August 2019 online edition of Scifaikuest:
meteor shower
how we were
infected
just wanting
to see blue skies again
Arcturus orbit
alien sapling
quietly growing
in another pot
seeing stars
with my final breaths
hull breach

18 September 2019: Delighted to see my pastel nagomi painting "Sunset Cattails", digital ink art "Into the Woods", and small poems on childhood memories in Colorado Boulevard today!
Dad and I
on a double decker bus
on the way to ride bumper cars
my happiest childhood memory
I tell him, holding his hand
by his hospital bed as we wait
*
all the secrets
hopes and dreams
I shared with you
childhood lovey
still with me
*
always home by 5
not a word in sight
plonked onto the couch
pop and I watch football
peanuts in mouth
*
only when I was sick
could I sip 7-up
from an a&w straw
and curl up to sleep
beside dad and mom
*
mom always read me
a story before I slept
before the monsters
under the bed emerged
to rear their ugly heads
I kept safe
by carefully tucking myself
inside my blanket
*
shadows aren't
so scary after all
they remind you
you're alive and strong
especially when
you're still small
10 September 2019: Thrilled to receive my contributor's copy of the 2019 Dwarf Stars anthology with my 3 poems, "The Gravity of Loss", "all my nightmares", and "emerging".
2 September 2019: My haiku appears in Issue 1.8 of Human/Kind Journal!
dreaming I'm anywhere but here dissociation
singing again
after years of captivity
nightingale
1 September 2019: 3 of my haiku appear in the 15th issue of FemkuMag!
lumbering tortoise
lugging home groceries
nine months pregnant
mountain mist
wearing the fog
of dissociation
some things
impossible to forgive
the murder of crows
31 August 2019: My haiku "sea breeze" appears in the Fall 2019 issue of Akitsu Quarterly!
sea breeze
a small crab scurries
into the water
31 August 2019: My dark poem "Storm Child" appears in the Ladies of Horror Flash Project.
22 August 2019: My horror story "A Gathering of Crows" appears in Tales from the Moonlit Path!
WARNING: Don't read this while you're eating*
*although I know this will make some of you want to read it more. :D
20 August 2019: Thrilled to be a part of Miscreations: Gods, Monstrosities & Other Horrors - A Horror Anthology co-edited by Bram Stoker Award-winning editors Doug Murano and Michael Bailey with my poems "The Vodyanoy" and "The Old Gods of Light" alongside Laird Barron, Victor LaValle, Josh Malerman, Ramsey Campbell, Lisa Morton, Mercedes M. Yardley, Michael Wehunt, and Usman T. Malik. Coming in early 2020 from Written Backwards.
15 August 2019: It's always lovely to receive my contributor's copies of Mayfly!
longing to
press pause on my life
river rapids
2 August 2019: "Poisoned Apples", "a butterfly darts", and "Rapunzel gets" appear in Star*Line 42.3.
1 August 2019: Happy to see my 3 haiku in Femku #14!
my mood
in menopause
jet stream
cut off again
mid-conversation
deadheading the roses
petrichor
the gears of my mind
disengage
1 August 2019: Lovely to be among friends in this week's Haiku Dialogue, curated by Katherine Munro for The Haiku Foundation!
overhanging branches
I take my daughter
to trim her fringe
~ ~ ~ ~ ~ ~ ~ ~
RECENT SALES AND ACCEPTANCES
5 September 2019: "The God of the Winds" was sold to Spectral Realms #12.
2 September 2019: "Always a Beast" was sold to Polu Texni.
30 August 2019: "full moon" was accepted for the October issue of cattails.
25 August 2019: "The Strange Sensation", "Instantly Regretting", "Bringing", "Longing", "I Run Reels of my Children" were sold to Scifaikuest.
2 August 2019: "Home" was sold to Sanitarium Issue 3.
~ ~ ~ ~ ~ ~ ~ ~
For 2019 news, click here, 2018 news, click here, 2017 news, click here, 2016 news, click here. For news between August 2014-December 2015, visit Archived News.