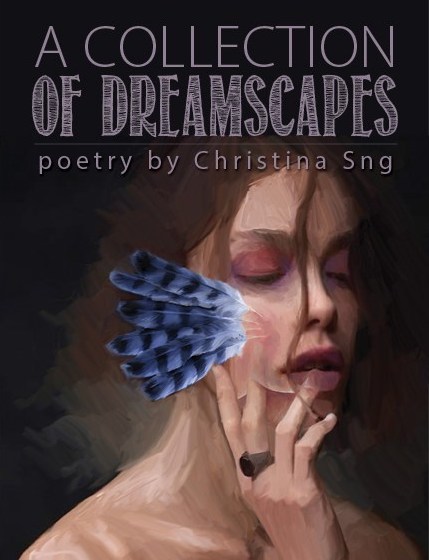 In A Collection of Dreamscapes, Christina Sng brings to life dark mythologies, fairy tales, a league of monsters, and a journey into the unfathomable depths of the human heart. This widely lauded follow-up to Sng's Bram Stoker award-winning volume, A Collection of Nightmares, has been described by reviewers as "a captivating collection that is not to be missed", "immersive, creepy, accessible", "a dream, dark and fantastic", "haunting, stunning, and poignant", and "a poetry collection every public library should own". Available from Raw Dog Screaming Press and Amazon.
~ ~ ~ ~ ~ ~ ~ ~ ~ ~ ~ ~
CONNECT:
Facebook
Twitter
Instagram
Medium


SUPPORT:
KO-FI:
Grab me a Coffee! :D
SOCIETY6:
Order my art prints at Society6.
PATREON:
My Patreon page features sneak peeks at works-in-progress, behind-the-scenes thoughts on my work, poems, art, haiku, plus signed limited cards and postcard poems to collect via snail mail!
If you'd like to support me on Patreon, do stop by and drop me some coin. Tiers begin from $1!
~ ~ ~ ~ ~ ~ ~ ~ ~ ~ ~ ~
Last updated: 2 February 2021
~ ~ ~ ~ ~ ~ ~ ~ ~ ~ ~ ~
2017 Bram Stoker Award® Winner, 2018 Elgin Award nominee, and one of LitReactor's Best Books of 2017, A Collection of Nightmares (Raw Dog Screaming Press) features a surreal dreamscape of seasonal creatures, bone carvers, listless gods, vengeful angels, post-apocalyptic survivors, and the end of all things good and evil. Available from Amazon and Raw Dog Screaming Press.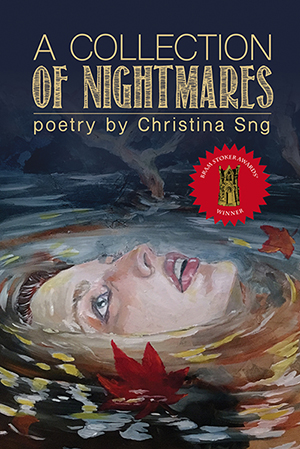 2018 Elgin Award runner-up Astropoetry (Alban Lake Publishing) celebrates the wonders and mysteries of space in scifaiku and lyrical prose. On sale from Amazon.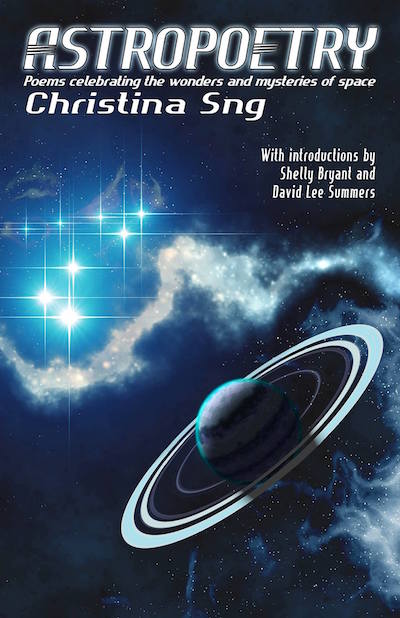 2017 Elgin Award nominee, An Assortment of Sky Things, is a poetic tour of the solar system and beyond in haiku and short poetry.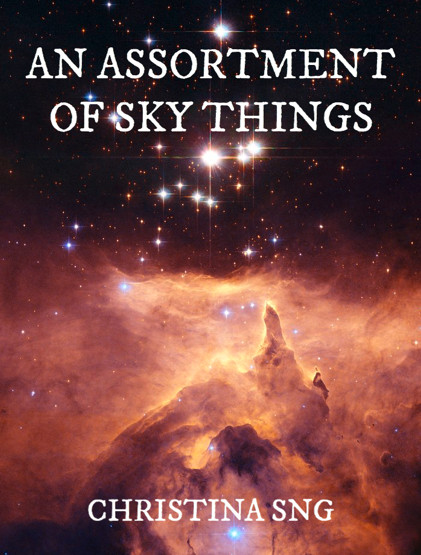 Catku takes us on a whimsical life journey between a cat and its human, a tale woven with 21 haiku and senryu based on my life with beloved cats. A must-have for all cat lovers.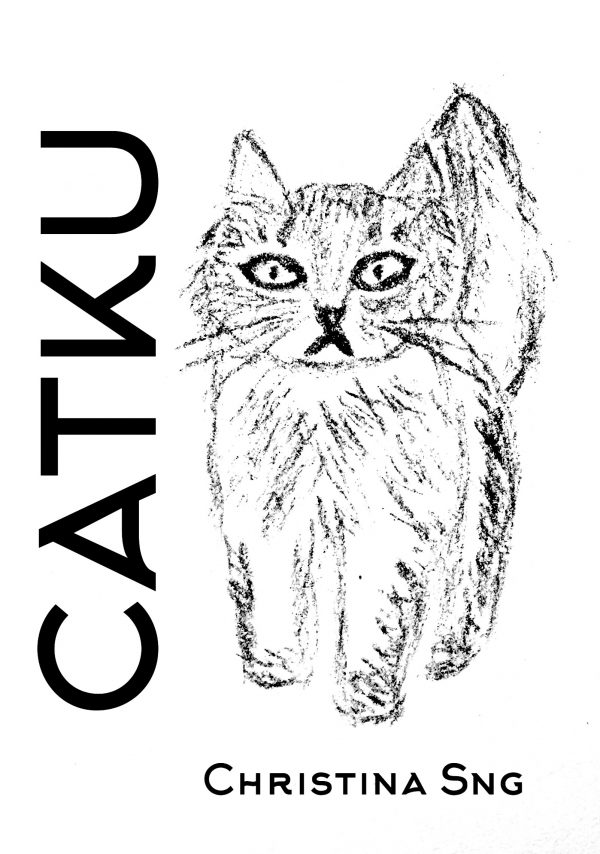 A Constellation of Songs, my first haiku collection, spans birth to death, illuminating the wonder and beauty of life in between. Available as a free PDF from the Origami Poems Project.
Dark Dreams is on sale as an eBook at Smashwords. The amazing cover is by Brian Hurtt, artist and co-creator of The Sixth Gun.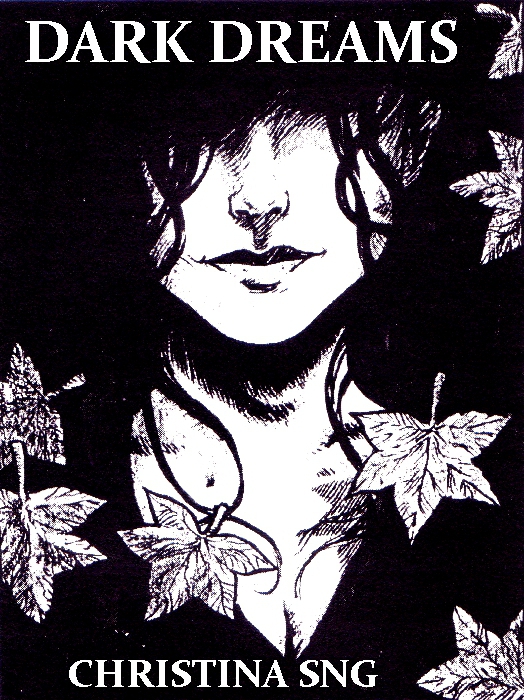 Christina Sng is the Bram Stoker Award-winning author of A Collection of Nightmares, Elgin Award runner-up Astropoetry, and A Collection of Dreamscapes. Since 2001, her poetry, fiction, essays, and art have appeared in numerous venues worldwide. Her poems have received nominations for the Pushcart Prize, the Rhysling Awards, the Dwarf Stars, as well as honourable mentions in the Year's Best Fantasy and Horror, and the Best Horror of the Year. Christina's first novelette Fury debuted in 2020's Black Cranes: Tales of Unquiet Women and her next book of poems The Gravity of Existence is forthcoming in 2022.
~ ~ ~ ~ ~ ~ ~ ~ ~ ~ ~ ~ ~ ~ ~ ~ ~ ~
Poetry | Fiction | Art | Nonfiction
~ ~ ~ ~ ~ ~ ~ ~ ~ ~ ~ ~ ~ ~ ~ ~ ~ ~
AWARDS, REVIEWS, FEATURES, INTERVIEWS, APPEARANCES
1 February 2021: Honoured that my haiku "drifting snowflakes" was read at the Seashores Zoom event in Dublin where it was cited by Jay Friedenberg as example of a good haiku with mystery and more. :D
31 January 2021: Elated to discover that A COLLECTION OF DREAMSCAPES is one of Well Read Beard's Top Five 2020 Poetry Collections!
23 January 2021: The Preliminary Ballot for the 2020 Bram Stoker Awards is out and I am elated to see A COLLECTION OF DREAMSCAPES (Poetry Collection) and FINAL GIRL: A LIFE IN HORROR (Short Non-Fiction) included, as well as two anthologies I have been truly honoured to be a part of: Miscreations: Gods, Monstrosities & Other Horrors - A Horror Anthology and Black Cranes: Tales of Unquiet Women.
My most grateful thanks to my publishers Jennifer Barnes and John Edward Lawson of Raw Dog Screaming Press and Holly Walrath of Interstellar Flight Press, and editors Doug Murano, Michael Bailey, Lee Murray, and Gene Flynn for giving my work a home. Special thanks to my publicist Erin Al-Mehairi and editor Stephanie M. Wytovich.
I'm so honoured to share this list with luminaries and friends, Andy Davidson, Alma Katsu, Todd Keisling, Josh Malerman, Jeffrey Thomas, Alessandro Manzetti, David E Cowen, Tom Deady, Gabino Iglesias, Gwendolyn Kiste, Jess Landry, S.P. Miskowski, Jason Parent, Steve Stred, Meghan Arcuri-Moran, Larry Hinkle, Cindy O'Quinn, Kyla Lee Ward, Kathe Koja, John Langan, Gary McMahon, Lee Murray, Rob Ottone, Anna Taborska, Jessica McHugh, RJ Murray, Sara Tantlinger, Michael Kelly, Sam Kolesnik, Jeani Rector, Tim Waggoner, Kevin Wetmore, Rhonda Jackson Garcia, and more.
19 January 2021: Incredible news to wake up to!! :D
A COLLECTION OF DREAMSCAPES is one of Tor Nightfire's 10 BEST HORROR POETRY COLLECTIONS OF 2020!!
I'm so honoured to be on this list alongside my esteemed friends and colleagues Cina Pelayo, Marge Simon, Mary A. Turzillo, Michael Bailey, Angela Yuriko Smith, Ashley Dioses, and K.A. Opperman.
16 January 2021: Incredibly honoured that A COLLECTION OF DREAMSCAPES is one of Reading Vicariously's Must-Reads from 2020! Thank you so much, Ben!
1 January 2021: 2020 was undoubtedly the most difficult year of my life but there were many good things that happened for me too and I celebrate them on this last day of the year:
A COLLECTION OF DREAMSCAPES was born! Thank you, Jennifer and John, Stephanie and Erin, and to Steven, for bringing it into the world!
My first novelette FURY was written for the stellar anthology Black Cranes. Thank you, Lee and Gene, for taking a chance on me.
THE GIFT OF DEATH, a short story I love, was published in Space and Time. Thank you, Gerard and Angela, for giving it a home.
I began writing essays again. The one I worked hardest on was FINAL GIRL: A LIFE IN HORROR. Thank you, Holly and Sydney, for taking it on.
In the anthology Midnight Under the Big Top, I shared pages with my favourite author Robert McCammon! Thank you so much, Brian, for making this possible.
A huge thank you to all the reviewers and readers who read and reviewed my work, and much gratitude and thanks to the editors and publishers who accepted my work this year. You brighten my day, every day.
Other cool things that happened:
I completed my first Poetry Half Marathon!! Thank you, Caitlin and Jacob, for organising it.
My poem "Together" was featured in The Fox Poetry Box. Thank you, Tricia, for the wonderful honour.
I saved a lizard from a sticky wrapper.
My first virtual panels at C'monfluence 2020 and the Singapore Writers Festival were thrilling!
I received my first Pushcart Prize nomination for Poetry! Thank you so much, John.
My poems received 4 nominations for the Dwarf Stars and 3 for the Rhysling Awards. Many thanks to the Science Fiction Poetry Association and award chairs, Robin and David.
Finally, I taught my first art class on Zoom. It was a lovely, peaceful session and it made my day to know the participants enjoyed it. Thank you, Stephanie! Everyone was awesome!
I am so deeply grateful to all of you for being here for me during this impossible year. Thank you and thank you again!
Wishing you all a happy, healthy, and peaceful New Year! Here's to a better 2021 for everyone!
23 December 2020: Elated to read this wonderful review by Angela Yuriko Smith of my novelette FURY in BLACK CRANES, edited by Lee Murray and Gene Flynn!
"...this is an exciting run-for-your-life adventure through danger from every angle that hits uncomfortably close to home. Action packed prose keeps the reader turning pages as they rush to the end...whipping through high stakes scenarios with an interesting cast of characters. Sng creates a world apart from ours with disturbing similarities...in the end we have to ask ourselves how much we are willing to pay for utopia?"
17 December 2020: Completely blown away by Eva Roslin's incredible 5-star review of A COLLECTION OF DREAMSCAPES! Her words are so breathtakingly beautiful that I can't single out a single quote I love. I love them all. Thank you so very much, Eva!!
"Sng's poems, which I have been dazzled by and amazed for years, have a dream-like quality here, which is not surprising given the title of the work of this collection. She conjures images of myths, of heartbreak, evoking the same tragedy of Edgar Allan Poe's "Annabel Lee."
Her poems are carved from the most beautiful gems, each one a special gift bearing different surprises for the reader. The emotions that her poems evoke hit the reader deeply, and resonate with strong chords of sorrow. Like her contemporaries, Sng's poetry reaches up like dark tendrils of a mandrake and pleads, with sad insistence, that the reader allow themselves to be overtaken by the emotions they present.
Those who enjoy mythological figures of strong women will enjoy this collection, every bit as fierce as 'Beowulf' but suffused with tender care to intensify the electric images.
Women and the energy of what it is to be female and have power, to have beauty, to be feared and reviled for it but in some rare cases, adored and appreciated for it, posed here not as a threat but rather something to celebrate, make this a must-read not just for Women in Horror month, but also year-round.
Anyone with an appreciation for fine, dark poetry on sorrowful themes needs this book in their life. Herein there are images of battlefields, both metaphorical and literal, of demons, of the power and indomitable spirit of women who do not allow themselves to be conquered.
I also found the linearity of the collection had a fascinating resonance for me, wherein the poems were connected by storylines. I haven't seen that in poetry, and I enjoyed it here.
Sng elevates her poetry to new levels here--she is a modern day bard.
The Romantic Poets, in particular Percy Shelley and Lord Byron, also infuse the pages of Sng's collection with their energy, and not simply because of the similarities in themes. There is a powerful interplay of homage mixed with extension and going even further than the originals had hoped.
It's not adequate enough and too simplistic to say that Sng writes beautifully or that her poems feature a lushness to them. The focus here on aspects of fairy tales that get ignored, like in Little Red Riding Hood, Rapunzel, Snow White, and others, here put a spotlight on those experiences, and re-center the women in a way that feels ingrained and transformative.
One of the central themes of the collection is women refusing to don the mantles assigned to them from fairy tales, and all of the messages that Conservativism and other modern-day controlling forces impose, particularly on women. It takes these things and tears out their guts. It challenges simplistic falseties like 'happily ever after' and makes these fairy tale princesses, usually stuck in Disneyfied boxes, to become who they really are.
There is trauma, as the collection moves forward, of what happens to female bodies, of the silent things we suffer, of the fear that it will happen again, that no one will believe us, and that hovering toxicness that threatens every interaction, every tiny inkling of what may be, of what we may be accused of later lest we are not careful.
To try to condense this magnificent collection in a pithy, quotable "one line" summary would not do it justice. There's an elegance here, even as the darkest depths of actions and emotions are being explored, and an aesthetic that blends together so many amazing forces. It is a collection that needs to be read and celebrated as widely as possible, studied in schools for how profound its impact is. "A Collection of Dreamscapes" feels like a grimoire that every wronged woman must possess, that contains the tools of how to take what has disempowered us for so long and fight to change that."
~ ~ ~ ~ ~ ~ ~ ~
LATEST RELEASES
25 January 2021: Thrilled to be in the Ladies of Horror Flash Project this month with my poem "The Long Days Before Winter".
14 January 2021: My haiku "movie night" appears in brass bell!
13 Jnuary 2021: So excited to see my latest essay "The Queen's Gambit Got Me To Play Chess Again" in Cinemania!
4 January 2021: My first published essay in 2021, "A Journey into the Darkness of a Violent Mind: A commentary on the American horror movie Becky (2020)" appears in Cinemania.
1 January 2021: My scifaiku "all this rain" appears in Star*Line 44.1:
all this rain
stuck in my coffin
all night again
28 December 2020: Thrilled to see my story "It's a Full Moon Kind of Night" in the Ladies of Horror Flash Project.
22 December 2020: So lovely to have 3 haiku in the Winter 2020 issue of Akitsu Quarterly! Thank you, Robin, for giving my poems a home.
dressing
to blend in
snow hare
I drink my tea
and tell my story
trauma center
grandma checks
every door again
long night
15 December 2020: My digital painting "Tree of Life" is the cover art for New Myths #53 alongside my poem "Dark Forest".
15 December 2020: My flash fiction "Fenrir" appears in the anthology Twilight Worlds: Best of NewMyths Anthology Volume II.
~ ~ ~ ~ ~ ~ ~ ~
RECENT SALES AND ACCEPTANCES
22 January 2021: My poem "Our Brief Time in the Sun" was sold to the anthology Age of Uncertainty.
14 January 2021: Tanka "Every Dream", "The Newfangled", "Digging Up", and Joined Poem "Time Slows" were sold to Scifaikuest for their February 2022 issue.
29 December 2021: My poems "Jones", "Annihilation", "Vlad's Cat", "Wolf Girl", and "Cat's Life" were sold to Penumbric.
15 December 2020: My poems "Together", "A Wish for You", and "The Company of a Cat" will appear in the charity anthology Like Sunshine After Rain.
1 December 2020: Thrilled to have sold my art piece "Tree of Life" and poem "Dark Forest" to New Myths! :D
~ ~ ~ ~ ~ ~ ~ ~
For 2020 news, click here, 2019 news, click here, 2018 news, click here, 2017 news, click here, 2016 news, click here. For news between August 2014-December 2015, visit Archived News.
~ ~ ~ ~ ~ ~ ~ ~