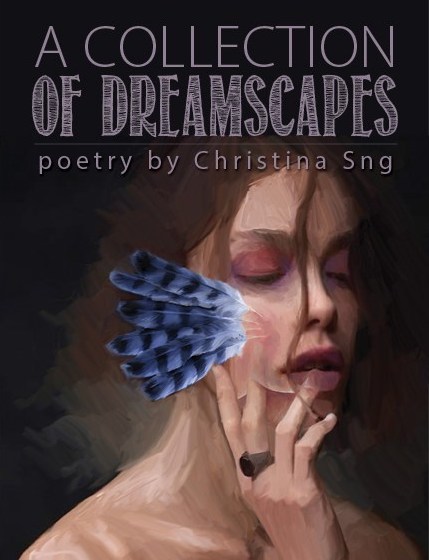 In A Collection of Dreamscapes, Christina Sng brings to life dark mythologies, fairy tales, a league of monsters, and a journey into the unfathomable depths of the human heart. This widely lauded follow-up to Sng's Bram Stoker award-winning volume, A Collection of Nightmares, has been described by reviewers as "a captivating collection that is not to be missed", "immersive, creepy, accessible", "a dream, dark and fantastic", "haunting, stunning, and poignant", and "a poetry collection every public library should own". Available from Raw Dog Screaming Press and Amazon.
~ ~ ~ ~ ~ ~ ~ ~ ~ ~ ~ ~
CONNECT:
Facebook
Twitter
Instagram
Medium


SUPPORT:
KO-FI:
Grab me a Coffee! :D
SOCIETY6:
Order my art prints at Society6.
PATREON:
My Patreon page features sneak peeks at works-in-progress, behind-the-scenes thoughts on my work, poems, art, haiku, plus signed limited cards and postcard poems to collect via snail mail!
If you'd like to support me on Patreon, do stop by and drop me some coin. Tiers begin from $1!
~ ~ ~ ~ ~ ~ ~ ~ ~ ~ ~ ~
Last updated: 30 July 2020
~ ~ ~ ~ ~ ~ ~ ~ ~ ~ ~ ~
2017 Bram Stoker Award® Winner, 2018 Elgin Award nominee, and one of LitReactor's Best Books of 2017, A Collection of Nightmares (Raw Dog Screaming Press) is a poetic feast of sleeplessness and shadows, an exquisite exhibition of fear and things better left unsaid. Available from Amazon and Raw Dog Screaming Press.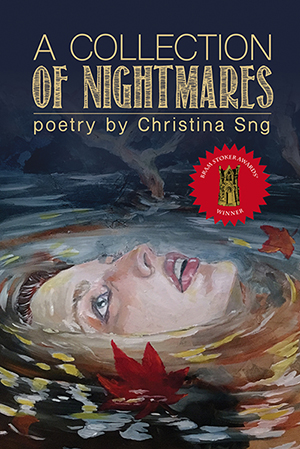 2018 Elgin Award runner-up Astropoetry (Alban Lake Publishing) celebrates the wonders and mysteries of space in scifaiku and lyrical prose. On sale from Amazon.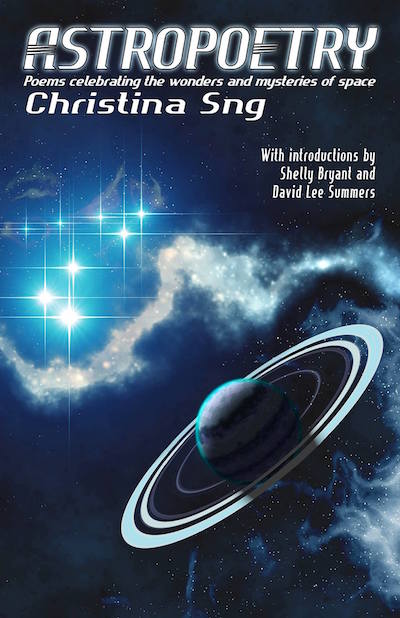 2017 Elgin Award nominee, An Assortment of Sky Things, is a poetic tour of the solar system and beyond in haiku and short poetry.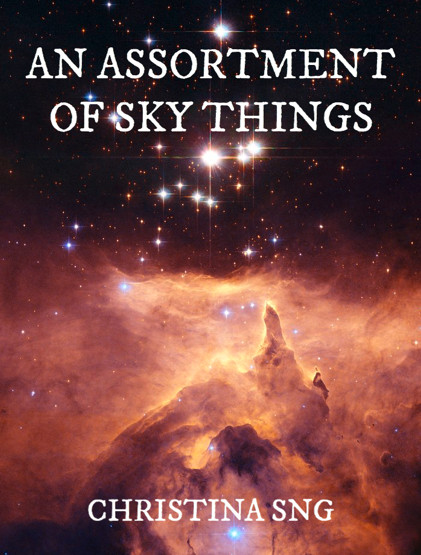 Catku takes us on a whimsical life journey between a cat and its human, a tale woven with 21 haiku and senryu based on my life with beloved cats. A must-have for all cat lovers.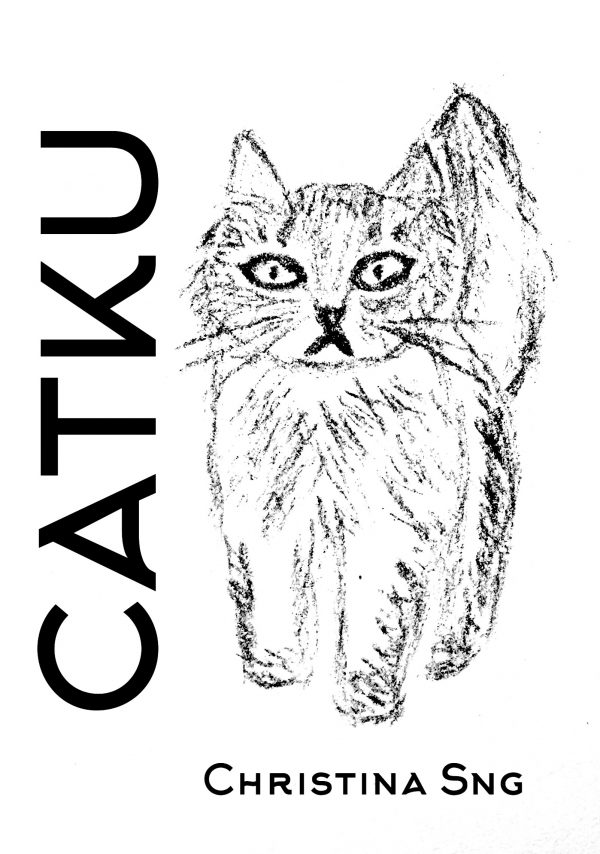 A Constellation of Songs, my first haiku collection, spans birth to death, illuminating the wonder and beauty of life in between. Available as a free PDF from the Origami Poems Project.
Dark Dreams is on sale as an eBook at Smashwords. The amazing cover is by Brian Hurtt, artist and co-creator of The Sixth Gun.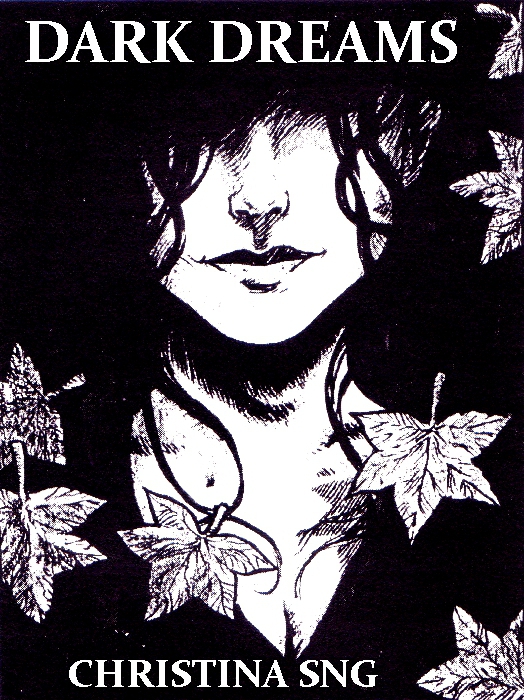 Christina Sng is the Bram Stoker Award-winning author of A Collection of Nightmares, Elgin Award runner-up Astropoetry, and A Collection of Dreamscapes. Her poetry, fiction, and art have appeared in numerous venues worldwide, and her poems have garnered multiple nominations in the Rhysling Awards, the Dwarf Stars, the Elgin Awards, as well as honorable mentions in the Year's Best Fantasy and Horror, and the Best Horror of the Year.
~ ~ ~ ~ ~ ~ ~ ~ ~ ~ ~ ~ ~ ~ ~ ~ ~ ~
Poetry | Fiction | Art | Articles
~ ~ ~ ~ ~ ~ ~ ~ ~ ~ ~ ~ ~ ~ ~ ~ ~ ~
AWARDS, REVIEWS, FEATURES, INTERVIEWS, APPEARANCES
16 July 2020: Lee Murray did the Graveyard Shift at Kendall Reviews and gave a wonderful shoutout to my books as well as this memory that still makes me cry:
"Next up, I'm going to dip into some dark poetry with A Collection of Nightmares by Singapore poet Christina Sng. Unlike Sng, I was seated at the Raw Dog Screaming Press table when this stunningly evocative collection won the Bram Stoker Award for poetry, and heard the thunderous applause. Deservedly."
Thank you so much, Lee! Your beautiful memory made a difficult month much easier to bear. And thank you for your incredible blurb for A Collection of Dreamscapes. I am over the moon every time I read your kind words.
"I hadn't thought it possible for Sng to improve on A Collection of Nightmares. I was wrong. In Dreamscapes, Sng shatters traditional storytelling and showcases her versatility as a master poet. Tackling odysseys, fairy tales, myths, monsters, and unspeakable violence, she wields words like 'a scythe making graceful strokes', paring her verse to sinew and bone. Not a word is out of place in this ground-breaking collection."
4 July 2020: Lovely to see my poem receive an Honourable Mention in the Fifth Annual H. Gene Murtha Senryu Contest!
never
trusting again
old shelter cat
A huge thank you to judges Michael Rehling and Brent Goodman for this honour.
4 July 2020: Elated to see this wonderful review of A COLLECTION OF DREAMSCAPES by Scott T. Barnes in New Myths!
"Christina Sng is one of the most prolific and gifted speculative poets working today. A Collection of Nightmares won the prestigious Bram Stroker award. Her new work, A Collection of Dreamscapes is equally worthy of your attention."
2 July 2020: Over the moon to see this fantastic review of A COLLECTION OF DREAMSCAPES by Kimberly Wolkens for The Ginger Nuts of Horror. Thank you so much, Kimberly, Erin Al-Mehairi, Jennifer Barnes, John Edward Lawson, and Jim McLeod, for making this happen.
"While there are definitely themes of war, destruction, death and dystopia, throughout the whole collection is an undercurrent of hope."
1 July 2020: Thrilled to be a part of the Ten Year Anniversary Anthology of Prune Juice - Journal of Senryu.
My most grateful thanks to editors Brent Goodman, Steve Hodge, Terri. L. French, Liam Wilkinson, and Alexis Rotella!
telling her I love her
every hour
dementia
#19 2016
broken
in two parts
before and after
#23 2017
peeling away
my many layers
navel orange
#26 2018
29 June 2020: Yesterday, I completed my first Poetry Half Marathon!! In 12 hours, I wrote 12 poems alongside participants from around the world. My most grateful thanks to Caitlin Elizabeth Jans and Jacob Jans for organising this wonderful event. It was an incredible experience.
26 June 2020: I wanted to share this slice of happy news! Today I did my first Insta Takeover on Instagram!
My most grateful thanks to Sing Lit Station for inviting me to be a part of this wonderful project.
I was honoured to read Charmaine Leung's breathtaking memoir 17A Keong Saik Road. Her elegant prose captivated me from the very first page.
It inspired my poem Mothers and Daughters, so beautifully recreated in images by the talented designers from Sing Lit Station.
A huge shoutout to Shalani Devi who walked me through making Instagram stories! While I panicked, she was a sea of calm and now I've learned a new skill!
16 June 2020: Much gratitude to judge Nadine Léon for selecting my haiku "missing my father" as one of Haiku University's Weekly Best 19-25 May 2020 pour le sentiment:
missing my father
the sun absent in lockdown
mon père me manque
le soleil absent durant le confinement
Mi manca mio padre
il sole assente durante il confinamento
~ ~ ~ ~ ~ ~ ~ ~
LATEST RELEASES
25 July 2020: I'm so happy to see my poem "Incantation" in this month's Ladies of Horror Flash Project!
22 July 2020: Glad to see my 2 tanka included in tanka 2020: poems from today's world:
unable to sleep
I rescue leaf cuttings
and propagate them
the future feels
an iota brighter
learning to cherish
every moment
with the ones I love
how long do we have
left on this dying world
Thank you so much, Susan Burch, Alexis Rotella, and the editors who selected my work for this timely Red Moon Press anthology.
9 July 2020: Thrilled to be in Star*Line 43.3 with a cherita "The Joy of Travelling" and a scifaiku "android apocalypse".
THE JOY OF TRAVELLING
go see the world, they said
it'll be fun, they said
stranded on a ship
with nothing left to eat
and no one to navigate
lost seasick vampire
~~~
android apocalypse
they hated us calling them
toasted oven
7 July 2020: The Summer 2020 issue of Akitsu Quarterly has arrived with my haiga "insomnia" on the inner cover and two haiku inside.
oyster pearl
midway through our breakup
I stop crying
all the things
I'd do differently
summer love
1 July 2020: Happy to see my haiku in the latest issue of Femku:
lockdown
I let myself
sleep in
24 June 2020: This month's Ladies of Horror Flash poem Demon Night was written after revisiting one of my favourite movies "Demon Knight".
10 June 2020: Penumbric is back!! I'm so proud to be a part of the first new issue with my poems "The Price of Peace", "The Conjurers", and "Venus", and art "Contemplating the Moon", "Light in the Darkness", and "The War Upon Us", plus an interview "New Beginnings" with managing editor Jeff Georgeson on how far we've come in 15 years. Read this fantastic issue at penumbric.com.
~ ~ ~ ~ ~ ~ ~ ~
RECENT SALES AND ACCEPTANCES
23 July 2020: Elated to be in this year's Horror Writers Association Poetry Showcase with my poem "Haunted" amongst such great company!
19 July 2020: My haiku "malaise" was accepted for The Cicada Cry's Special Edition: Haiku in the Time of Coronavirus.
7 July 2020: Sold "The Dark Forest" to the December 2020 issue of New Myths.
6 July 2020: Three haiku "dressing", "I drink my tea", and "grandma checks" was accepted to the Winter 2020 issue of Akitsu Quarterly.
1 July 2020: Sold my first novelette "Fury" to the Black Cranes anthology.
29 June 2020: My poem "Lost Little Girl" was sold to Tales of the Lost: Volume II.
18 June 2020: My poem "The Infinite Lives of the Little Match Girl" was sold to CHIRAL MAD 5.
~ ~ ~ ~ ~ ~ ~ ~
For 2020 news, click here, 2019 news, click here, 2018 news, click here, 2017 news, click here, 2016 news, click here. For news between August 2014-December 2015, visit Archived News.
~ ~ ~ ~ ~ ~ ~ ~