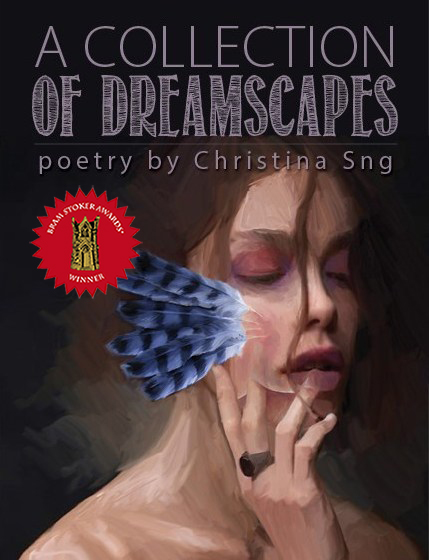 2020 Bram Stoker Award® winner, 2021 Elgin Award runner-up, and 2020 Ladies of Horror Fiction Award nominee, A Collection of Dreamscapes brings to life dark mythologies, fairy tales, a league of monsters, and a journey into the unfathomable depths of the human heart. This widely lauded follow-up to Sng's Bram Stoker award-winning volume, A Collection of Nightmares, has been described by reviewers as "a captivating collection that is not to be missed", "immersive, creepy, accessible", "a dream, dark and fantastic", "haunting, stunning, and poignant", and "a poetry collection every public library should own". Available from Raw Dog Screaming Press and Amazon.
~ ~ ~ ~ ~ ~ ~ ~ ~ ~ ~ ~
In Tortured Willows, four Southeast Asian women writers of horror expand on the exploration of otherness begun with the Bram Stoker Award-winning anthology Black Cranes: Tales of Unquiet Women. Like the willow, women have bent and bowed under the expectations and duty heaped upon them. Like the willow, they endure and refuse to break. With exquisite poetry, Christina Sng, Angela Yuriko Smith, Lee Murray, and Geneve Flynn invite you to sit beneath the tortured willow's gravid branches and listen to the uneasy shiver of its leaves.
~ ~ ~ ~ ~ ~ ~ ~ ~ ~ ~ ~
CONNECT:
Facebook
Twitter
Instagram
Medium


SUPPORT:
SOCIETY6:
Order my art prints at Society6.
PATREON:
My Patreon page features sneak peeks at works-in-progress, behind-the-scenes thoughts on my work, poems, art, haiku, plus signed limited cards and postcard poems to collect via snail mail!
If you'd like to support me on Patreon, do stop by and drop me some coin. Tiers begin from $1!
~ ~ ~ ~ ~ ~ ~ ~ ~ ~ ~ ~
Last updated: 1 March 2022
~ ~ ~ ~ ~ ~ ~ ~ ~ ~ ~ ~
2017 Bram Stoker Award® winner, 2018 Elgin Award nominee, and one of LitReactor's Best Books of 2017, A Collection of Nightmares (Raw Dog Screaming Press) features a surreal dreamscape of seasonal creatures, bone carvers, listless gods, vengeful angels, post-apocalyptic survivors, and the end of all things good and evil. Available from Amazon and Raw Dog Screaming Press.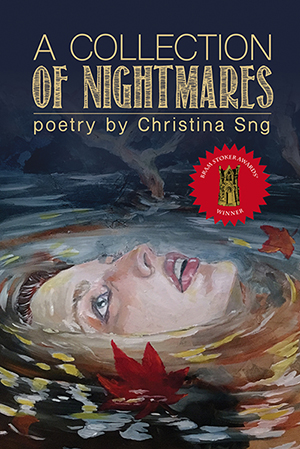 2018 Elgin Award runner-up Astropoetry (Alban Lake Publishing) celebrates the wonders and mysteries of space in scifaiku and lyrical prose. On sale from Amazon.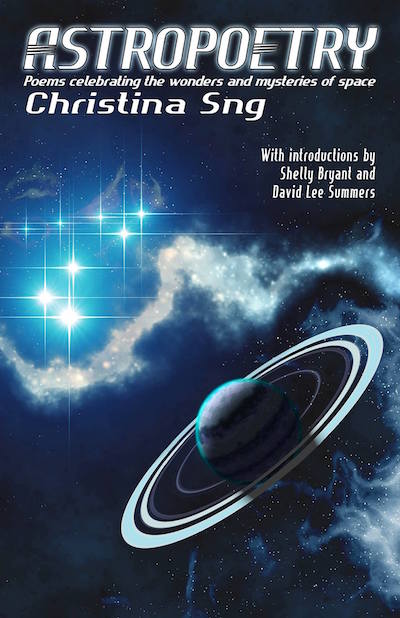 2017 Elgin Award nominee, An Assortment of Sky Things, is a poetic tour of the solar system and beyond in haiku and short poetry.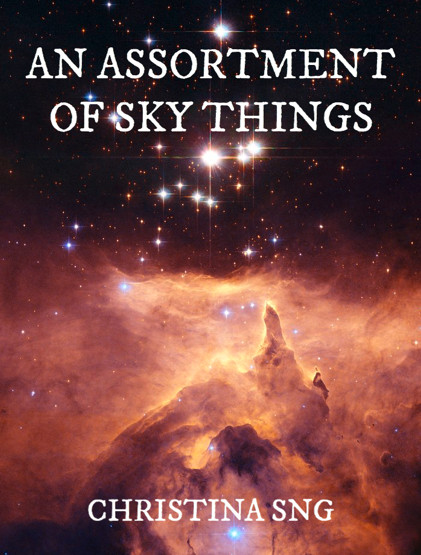 Catku takes us on a whimsical life journey between a cat and its human, a tale woven with 21 haiku and senryu based on my life with beloved cats. A must-have for all cat lovers.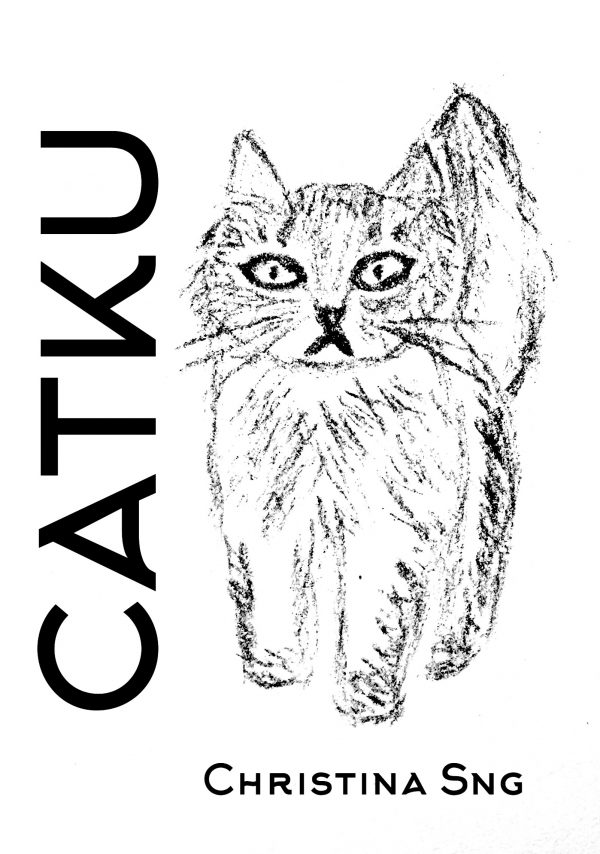 A Constellation of Songs, my first haiku collection, spans birth to death, illuminating the wonder and beauty of life in between. Available as a free PDF from the Origami Poems Project.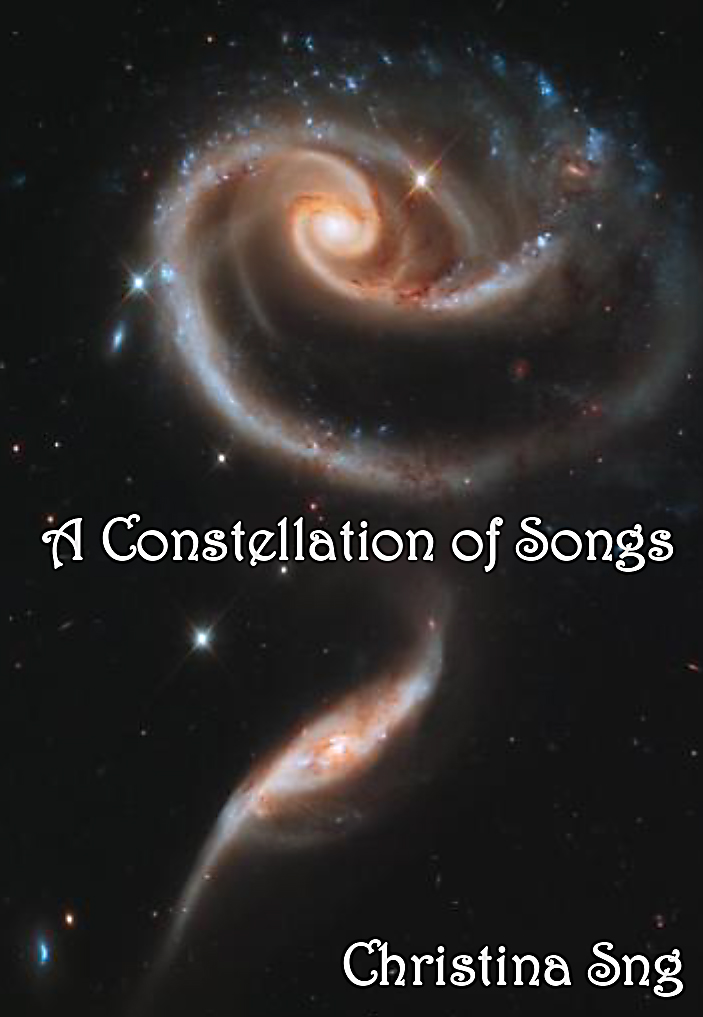 Christina Sng is the two-time Bram Stoker Award-winning author of A Collection of Nightmares (2017), A Collection of Dreamscapes (2020), Elgin Award runner-up Astropoetry (2017), Elgin Award nominee An Assortment of Sky Things (2016), the Bram Stoker nominated collaborative poetry collection Tortured Willows (2021), and haiku chapbooks A Constellation of Songs (2016) and Catku (2016).
Her poetry, fiction, essays, and art appear in such venues as Fantastic Stories of the Imagination, Interstellar Flight Magazine, Penumbric, Southwest Review, and The Washington Post, and received many accolades, including the Jane Reichhold International Prize, The Pula Film Festival International Haiku Award, multiple nominations for the Rhyslings, the Dwarf Stars, the Pushcart Prize, the Elgin Award, and the Ladies of Horror Fiction Award, as well as honorable mentions in the Year's Best Fantasy and Horror, and the Best Horror of the Year.
Christina was one of the recipients of the 2021 Ladies of Horror Fiction Writers Grant. Her essay Final Girl: A Life in Horror received a 2020 Bram Stoker nomination for Superior Achievement in Short Non-fiction and her first novelette Fury made its debut in the award-winning anthology Black Cranes: Tales of Unquiet Women (2020).
~ ~ ~ ~ ~ ~ ~ ~ ~ ~ ~ ~ ~ ~ ~ ~ ~ ~ ~ ~ ~ ~
Poetry | Fiction | Art | Non-fiction | CV
~ ~ ~ ~ ~ ~ ~ ~ ~ ~ ~ ~ ~ ~ ~ ~ ~ ~ ~ ~ ~ ~
FEATURES
25 February 2022: TORTURED WILLOWS is an official nominee on the final ballot of the 2021 Bram Stoker Awards! Thank you so much to everyone who believed in it. Lee, Angela, Gene, and I are immensely grateful to all of you. Kristy, we love you!!
Congratulations to my friends and colleagues, Jessica McHugh, Marge Simon, Mary A. Turzillo, Lucy A. Snyder, Alessandro Manzetti, Eric LaRocca, Jeff Strand, Carol Gyzander, Cindy O'Quinn, Anna Taborska, Kyla Lee Ward, Gemma Files, Philip Fracassi, Jonathan Maberry, James Chambers, Ellen Datlow, Jess Landry, Aaron J. French, Eric J. Guignard, Eugene Johnson, Danel Olson, and Kevin Wetmore, for your nominations! I'm incredibly honored to share a ballot with you.
*
18 February 2022: Elated to see two of my poems nominated for this year's Rhysling Award, "Snow Child" and "Whales". Thank you so much to the nominators for this honor!
~ ~ ~ ~ ~ ~ ~ ~
LATEST RELEASES
1 March 2022: So lovely to see my poems "How Long Do Monsters Live", "The Land of Fire and Ice", and "Diamond Planet" in Star*Line 45.1 with "How Long Do Monsters Live" selected as an Editor's Choice.
*
28 February 2022: My interview with The Fantastic Ms Yuriko Smith is live at Interstellar Flight Magazine.
~ ~ ~ ~ ~ ~ ~ ~
Archived News: 2022 | 2021 | 2020 | 2019 | 2018 | 2017 | 2016 | 2014-2015
~ ~ ~ ~ ~ ~ ~ ~