A Collection of Dreamscapes launches April 2020! Pre-order HERE!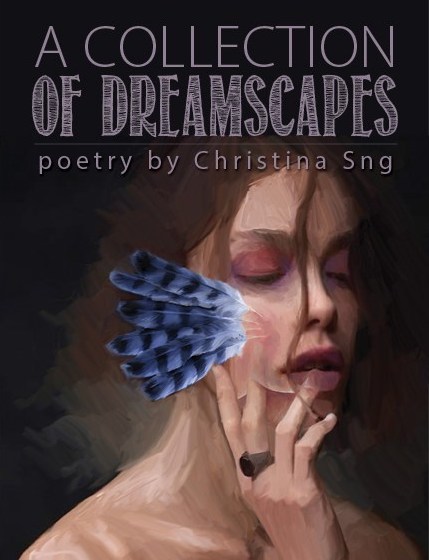 ~ ~ ~ ~ ~ ~ ~ ~ ~ ~ ~ ~
CONNECT:

SUPPORT:
KO-FI:
Buy me a Coffee! :D
SOCIETY6:
Buy my art prints at Society6.
PATREON:
My Patreon page features sneak peeks at works-in-progress, behind-the-scenes thoughts on my work, poems, art, haiku, plus signed limited cards and postcard poems to collect via snail mail!
If you'd like to support me on Patreon, do stop by and drop me some coin. Tiers begin from $1!
~ ~ ~ ~ ~ ~ ~ ~ ~ ~ ~ ~
Last updated: 26 March 2020
~ ~ ~ ~ ~ ~ ~ ~ ~ ~ ~ ~
2017 Bram Stoker Award® Winner, 2018 Elgin Award nominee, and one of LitReactor's Best Books of 2017, A Collection of Nightmares (Raw Dog Screaming Press) is a poetic feast of sleeplessness and shadows, an exquisite exhibition of fear and things better left unsaid. Available from Amazon and Raw Dog Screaming Press.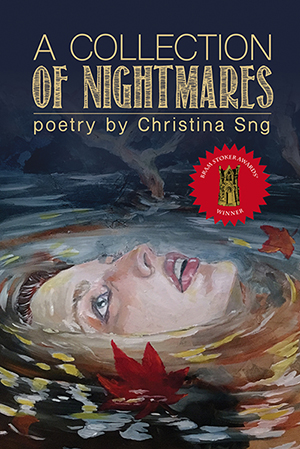 2018 Elgin Award runner-up Astropoetry (Alban Lake Publishing) celebrates the wonders and mysteries of space in scifaiku and lyrical prose. On sale from Amazon.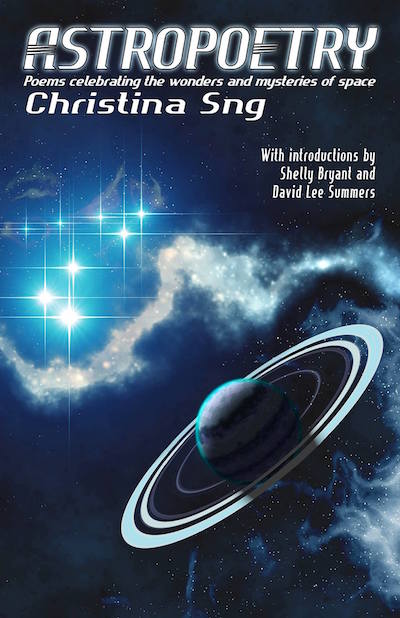 2017 Elgin Award nominee, An Assortment of Sky Things, is a poetic tour of the solar system and beyond in haiku and short poetry.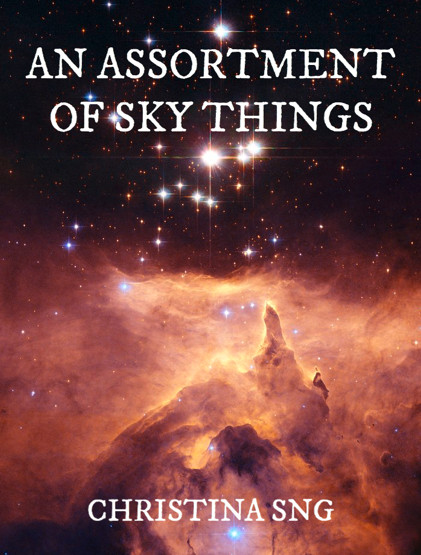 Catku takes us on a whimsical life journey between a cat and its human, a tale woven with 21 haiku and senryu based on my life with beloved cats. A must-have for all cat lovers.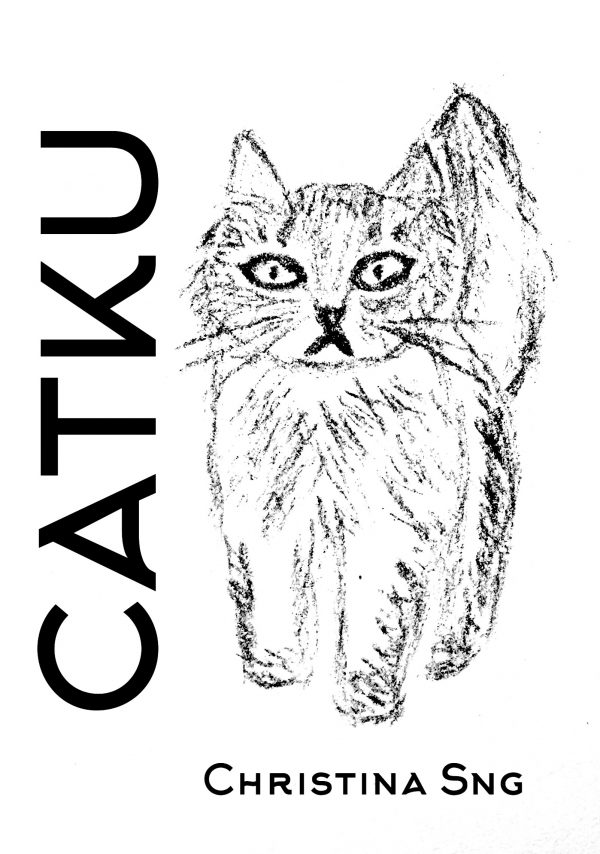 A Constellation of Songs, my first haiku collection, spans birth to death, illuminating the wonder and beauty of life in between. Available as a free PDF from the Origami Poems Project.
Dark Dreams is on sale as an eBook at Smashwords. The amazing cover is by Brian Hurtt, artist and co-creator of The Sixth Gun.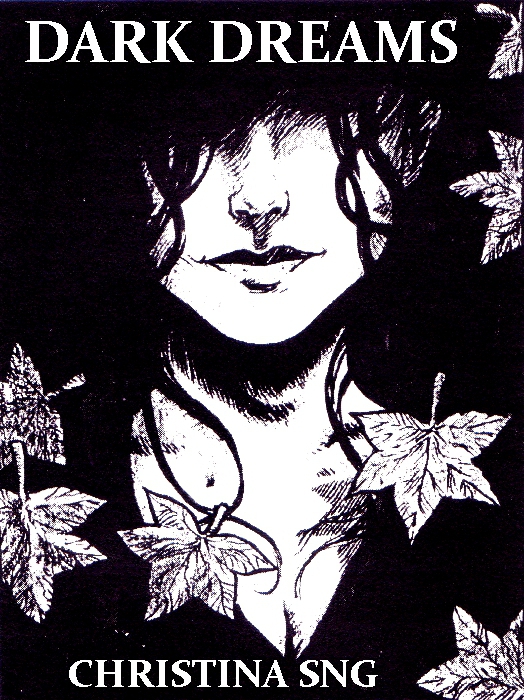 Christina Sng is the Bram Stoker Award-winning author of A Collection of Nightmares (Raw Dog Screaming Press, 2017) and Elgin Award runner-up Astropoetry (Alban Lake Publishing, 2017). Her poetry, fiction, and art have appeared in numerous venues worldwide, receiving accolades such as the Jane Reichhold International Prize, nominations in the Rhysling Awards, the Dwarf Stars, the Elgin Awards, and honourable mentions in the Year's Best Fantasy and Horror, and the Best Horror of the Year.
~ ~ ~ ~ ~ ~ ~ ~ ~ ~ ~ ~
~ ~ ~ ~ ~ ~ ~ ~ ~ ~ ~ ~
AWARDS, REVIEWS, FEATURES, INTERVIEWS, APPEARANCES
8 March 2020: The first review of A COLLECTION OF DREAMSCAPES is in!!
"This is a fantastic book of poetry that doesn't shy away from true monsters or the many found in myths. The imagery touches the wonderment of fairy tales, the intrigue of myth and our interest in future worlds." --Yolanda Sfetsos
4 March 2020: Elated that my poems "Reparation", "Styx", and "In the End, Only the Gods" have been nominated for the 2020 Rhysling Awards in the Short Poem and Long Poem categories. My most grateful thanks to everyone who nominated my work and to the wonderful editors who gave them a home.
1 March 2020: A lovely conversation with Tammy Walker on Luna Station Quarterly about my book ASTROPOETRY in Conversations with Speculative Poets: Christina Sng.
~ ~ ~ ~ ~ ~ ~ ~
LATEST RELEASES
12 March 2020: Elated to see my name on the cover of Space and Time Magazine #136!! My first published short story of 2020, "The Gift of Death", appears in this gorgeous issue.
7 March 2020: My poem "Tree Mother" is up at the Ladies of Horror Flash Project!
6 March 2020: Over the moon to see my painting "Dreams of Another World" on the cover of Scifaikuest! I also have 3 scifaiku and 1 horrorku in this splendid issue.
slow boat to the stars
the humans
we began with
not the same humans
who arrive
seeing you both
perfectly in the dark
my ex and my ex
now my lunch
and my dinner
every lover
immortalized
in stone
the broken heart
of Medusa
the second
taste of blood
always better
2 March 2020: Happy to see my 3 poems on anger in the latest issue of Femku, edited by Susan Burch.
~ ~ ~ ~ ~ ~ ~ ~
RECENT SALES AND ACCEPTANCES
23 March 2020: My space poem "Diamond Dust" was sold to Abyss & Apex.
~ ~ ~ ~ ~ ~ ~ ~
For 2020 news, click here, 2019 news, click here, 2018 news, click here, 2017 news, click here, 2016 news, click here. For news between August 2014-December 2015, visit Archived News.
~ ~ ~ ~ ~ ~ ~ ~