Christina Sng is the Bram Stoker and Elgin Award-winning author of A Collection of Nightmares (Raw Dog Screaming Press, 2017) and Astropoetry (Alban Lake Publishing, 2017). Her poetry, fiction, and art have appeared in numerous venues worldwide and garnered over 70 awards and nominations, including the 2018 Jane Reichhold International Prize, the 2016 Harold G. Henderson Award, and Honourable Mentions in the Year's Best Fantasy and Horror and the Best Horror of the Year.
~ ~ ~ ~ ~ ~ ~ ~ ~ ~ ~ ~
~ ~ ~ ~ ~ ~ ~ ~ ~ ~ ~ ~
AWARDS, REVIEWS, FEATURES, INTERVIEWS
5 November 2018: My haiga "promising me" has won First Prize in the Third Annual Jane Reichhold Memorial Haiga Competition and "still swarming around" received an Honourable Mention!!
Thank you so much to the judges, Ron C. Moss and Steve Hodge for this incredible honour! I am deeply grateful to them for making this possible.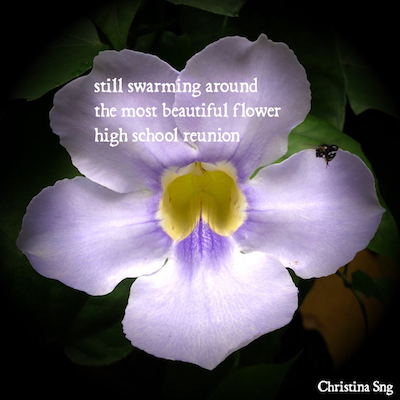 Judge's comments on "promising me":
"Simple, effective, and powerful, these are the first things that come to mind when I first saw this very effective haiga.
Many of the traditional components are there, from the light simple touch of the brushwork, to the sparse but emotional senryu that resonates deeply.
We see the ants crossing what looks like a stick over a puddle, which is a lovely link to finding the way and a promise of hope.
This haiga reminded me a lot of the classic ink paintings and their ability to say so much in a few deft strokes and not overwhelm but compliment the words."
28 October 2018: My article "Horror and Halloween in Singapore" for the HWA Halloween Haunts blogspot is now live! A copy of my Bram Stoker Award-winning poetry book A COLLECTION OF NIGHTMARES is up for grabs from now till October 31st!
23 October 2018: There's a wonderful review of my books ASTROPOETRY and A COLLECTION OF NIGHTMARES by Luke Forney in Star*Line 41.4 that completely made my day!
26 September 2018: I'm featured in Speculative Chic's My Favorite Things!
21 September 2018: ASTROPOETRY won second place in the Elgin Awards!! I'm over the moon!
Thank you so much to the Science Fiction Poetry Association for this incredible honour! I'm deeply grateful to everyone who made time to read my book and loved it enough to vote for it.
A million thanks to my publisher Alban Lake for always believing in my work and supporting me over years, and to Mitchell Davidson Bentley for his mesmerizing cover.
A special thank you to David Lee Summers, Shelly Bryant, Marge Simon, Theresa Santitoro, Mike Allen, Linda D Addison, John Reinhart, F.J. Bergmann, Charles Christian, and my many friends and colleagues who have been to the stars and back with me. This collection would not have been possible without you.
10 September 2018: My fairy tale haiku sequence "Little Red in Haiku", which first appeared in Star*Line 40.4 last year, has received an Honourable Mention in the Best Horror of the Year Volume Ten!!! I am stunned and overjoyed and can't stop beaming at my computer. Thank you so much for this incredible honor, Ms Datlow!
LITTLE RED IN HAIKU
flash of red
through the woods
alarums
old goat
tougher than expected
long lunch
sweetness
of maraschino cherries
baby smells
roleplaying
another species
something new
calmness
tenderizes the meat
grandma not grandma
clear anomalies
the sharpness of teeth
and claws
the speed
of younglings
chest arrow
her sobs
as he fades to black
grandma bones uncovered
~ ~ ~ ~ ~ ~ ~ ~
LATEST RELEASES
5 November 2018: "peeling away", "the dizzying spin", and "another promise" appear in Prune Juice:
peeling away
my many layers
navel orange
the dizzying spin
of our carnival ride
first love
another promise
to keep your promises
dissipating wind
4 November 2018: "Stations of the Cross" and "autumn leaf" appear in otata 35:
Stations of the Cross
we talked arm in arm
about our life story
autumn leaf
finally I know
my place
2 November 2018: Glad to be in today's Asahi Shimbun with a haiku remembering sweet moments with my little son:
baby's first car ride
we sing wheels on the bus
all day long
2 November 2018: My poem "Obsession" appears in the Ladies of Horror Flash Project.
1 November 2018: Elated to see my two digital paintings "Daybreak" and "World Catcher" alongside my tanka "how I weep" in Colorado Boulevard's Poetry Corner on Seeing the World Differently, curated by the wonderful Kathabela Wilson.
how I weep
for the leaves
fallen and dried
yet they return in spring
to live again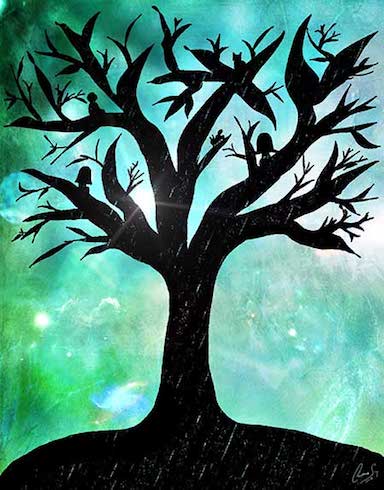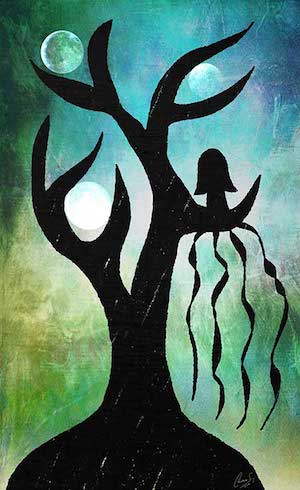 1 November 2018: I'm so delighted to be a part of The Cicada's Cry Special Digital Edition Halloween 2018:
trick or treating
we all get a witch's hat
even the cat
1 November 2018: Happy to be among friends in this week's A Sense of Place:
deep forest trail
the search party follows
my pup's excited yelps
27 October 2018: Glad to be in the Autumn 2018 issue of Wales Haiku Journal with:
how much of him
still remains in there
grandpa's grave
25 October 2018: I've got my head in the clouds in this week's A Sense of Place.
cloudtop hike
seeing nothing
but sky
23 October 2018: My black and white digital art "Happiest Childhood Memories" appears in Star*Line 41.4 alongside two of my fantasy poems "The Warrior Mephala" and "Legacies".
19 October 2018: Delighted to be featured in today's Haikuniverse:
a brief dream
of another life
sliding doors
18 October 2018: Thrilled to see my scifaiku "strange contagions", "clinically dead", tanka "garlic and crosses", and my line art "The Hand" in the 16th Anniversary Issue of Scifaikuest!!
clinically dead
the brain dreams
in remnants
17 October 2018: In this week's A Sense of Place:
a touch of dew
on the strawberries
picking season
17 October 2018: My haiku and tanka featured in the Colorado Boulevard Poetry Corner on Calm Waters:
Living in the city, there's little escape from the din, save for the night when all is quiet and calm. Those are the hours I feel most at peace, a much needed time to rest and recharge before another day envelops us again.
my constant
need for quiet
thunderstorm
asleep
at the bottom
of the sea
I envy the shark
in its quiet place
15 October 2018: My drabble, "The Evolution of Extraordinary Creatures" appears in Drabble Harvest #11-Unnatural Wildlife Handbook.
12 October 2018: "The Many Lives of Swan Everly", one of my favourite flash fictions, appears in the October issue of Outposts of Beyond.
10 October 2018: In A Sense of Place:
the taste of dew
on our parched tongues
deep meadow
9 October 2018: My drabbles, "The Girl in the Mirror" and "The Fast Draw" appear in Drabbledark II.
3 October 2018: In this week's A Sense of Place:
finding us
in lush meadow
our blind dog
2 October 2018: Thrilled to see my poem "Mission to Mercury" in the latest issue of Abyss & Apex!
~ ~ ~ ~ ~ ~ ~ ~
RECENT SALES AND ACCEPTANCES
6 November 2018: Horrorku "Pack of Werewolves", "The Second", and tanka "Seeing you Both" were sold to Scifaikuest.
4 November 2018: "Dark Dragons" was sold to Silver Blade Issue 40, out this November.
20 October 2018: My science fiction poem "Sunset on Kepler 22b" was sold to The Future Fire.
17 October 2018: My digital paintings "Dreams of Another World" and "Inside" were sold to Scifaikuest for their February 2020 print and online covers, respectively.
13 October 2018: Scifaiku "The Feeling" and "Pets" and my digital art "Worlds Collide" were sold to Star*Line.
11 October 2018: Tanka "No Monsters", "Slow Boat to the Stars", "Living an Eternity", and joined poem "All Hallows Eve" were sold to Scifaikuest.
7 October 2018: "The Island" and "Light at the End of the Tunnel" were sold to Spectral Realms #10.
~ ~ ~ ~ ~ ~ ~ ~
For 2018 news, click here, 2017 news, click here, 2016 news, click here. For news between August 2014-December 2015, visit Archived News.