Christina Sng is a poet, writer, and artist. Her work has been published in numerous print and online venues worldwide and garnered more than 70 awards and nominations, including the 2018 Jane Reichhold International Prize. She is the author of A Constellation of Songs (Origami Poems Project), Catku (Allegra Press), Elgin Chapbook Award nominees, An Assortment of Sky Things (Allegra Press) and Astropoetry (Alban Lake Publishing), and 2017 Bram Stoker Award® Winner, Elgin Book Award nominee, and one of LitReactor's Best Books of 2017, A Collection of Nightmares (Raw Dog Screaming Press).
~ ~ ~ ~ ~ ~ ~ ~ ~ ~ ~ ~
~ ~ ~ ~ ~ ~ ~ ~ ~ ~ ~ ~
AWARDS, REVIEWS, FEATURES, INTERVIEWS
27 May 2018: 5-Stars from Cedar Hollow Horror Reviews for A COLLECTION OF NIGHTMARES.
"This poetry collection is beautiful. The poems are dark and creepy. Just the way I like it...(They) drip with life and death. They are brutal and frightfully beautiful. Some will make you tear up, while others will give you chills...If you haven't read any horror poetry lately, then I suggest you remedy that immediately. This collection is a great place to start."
24 May 2018: A COLLECTION OF NIGHTMARES will be exhibited at the Poets House in NYC, USA from June 28 to August 18.
20 May 2018: Over the moon to discover that my poem "Sand Under a Microscope" has won First Place in Angela Poetry Magazine's Monthly Lighthearted Poetry Contest! It's my first time winning a prize for a contemporary poem so I'm really excited!
15 May 2018: Elated to have a half-page feature by Olivia Ho in the Singapore Straits Times: Poet Christina Sng is the first Singaporean to win the Bram Stoker award!
10 May 2018: Wonderful 5-star review of A COLLECTION OF NIGHTMARES by Nicholas Diak on Goodreads.
7 May 2018: Elated that my haiku "giving spring" has been selected as Editor's Pick for the Spring 2018 edition of The Cicada's Cry!
giving spring
another chance
rescued cat
2 May 2018: Jennifer Crow reviews A COLLECTION OF NIGHTMARES:
"If you like your poetry dark--but also like it with a heart and soul--this is a great collection. I love how Christina Sng blends creepiness with human interaction. So many of the stories involve the links between family members, especially mothers and children. It captures, with remarkable emotional effect, the desire to protect in terrifying moments and the fear that only loving someone can bring to us."
1 May 2018: My haiku "the gravity" is featured in Sonic Boom's anthology the arithmetic of sparrows: Best of Paper Lanterns (vol. 1):
the gravity of disrespect drain flies
~ ~ ~ ~ ~ ~ ~ ~
LATEST RELEASES
20 June 2018: My haiku "the falling leaves" in this week's Haiku Windows:
the falling leaves
never reaching the ground
stained glass window
12 June 2018: Delighted to see my watercolour painting "Blue World" and 2 haiku in the Summer 2018 issue of Akitsu Quarterly!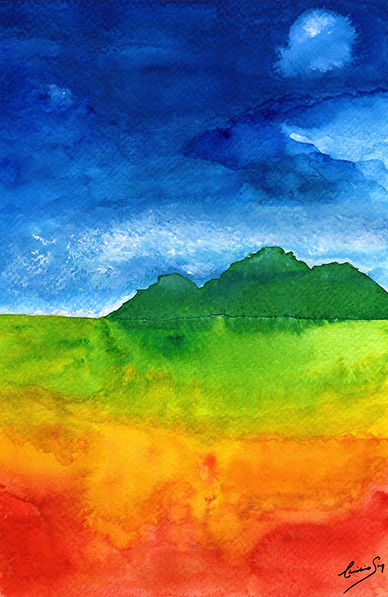 rediscovering
my importance
milkweed
the strength
I need to rebuild
fireflies
9 June 2018: My short story "Red" appears in Space and Time #131!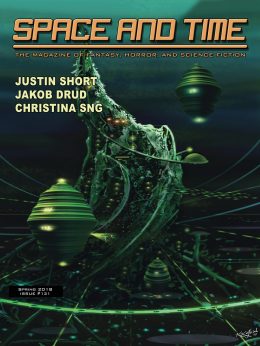 9 June 2018: Glad to have 3 haiku in the June issue of otata!
eye surgery another moonless night
bracing for
the inevitable
curveball
lost in a fugue the empty snail shells
7 June 2018: On Haiku Windows:
deep space
nothing to see
but darkness
30 May 2018: On Haiku Windows:
once again
wishing on a star
lottery window
30 May 2018: My poem "School Recital" appears in the May 2018 issue of Cricket.
27 May 2018: First time featured in the Wales Haiku Journal!
misty dawn
drifting in and out
of dreams
24 May 2018: Proud to be a part of Nina D'Arcangela's Ladies of Horror Flash Project with my horror poem, "All the Monsters in the World"!
24 May 2018: On Haiku Windows:
protecting us only
from what's outside
storm window
23 May 2018: My painting "Waiting Together" is on the cover of Dreams & Nightmares 109!
This is the first time my art has made the cover of a print magazine and I am especially thrilled because my first two poems ever published were in Dreams & Nightmares 52.
My deepest and most grateful thanks to David C. Kopaska-Merkel for giving my work a home all these years.
Dreams and Nightmares 109 includes my fairy tale poem, "Rapunzel", and fantastic poems by F.J. Bergmann, Joshua Gage, Herb Kauderer, Deborah P Kolodji, John Reinhart, and many more.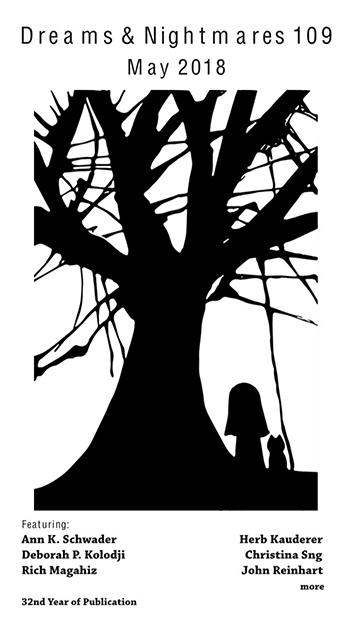 16 May 2018: Delighted to see my contributor copies of The Cicada's Cry, edited by the wonderful Joanne M Reinbold.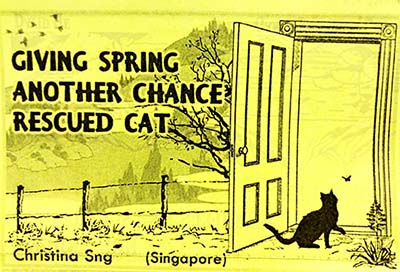 16 May 2018: 3 weeks of Haiku Windows:
window seat
a teddy bear
left behind
perched outside
the hospital window
a bird with all its limbs
seeing the world
through soap bubbles
first car wash
1 May 2018: "solitary journey" appears in otata #29.
solitary journey
of a leatherback hatchling
the space between stars
~ ~ ~ ~ ~ ~ ~ ~
RECENT SALES AND ACCEPTANCES
23 June 2018: "Mission to Mercury" has been sold to Abyss & Apex! It will appear in Issue 68 this October.
12 June 2018: My first comic sale ever! "Just Another Day" has found a home at Space Squid! :D
8 June 2018: Sold drabble "Mars Base" to Martian Magazine.
7 June 2018: Haiku "eye surgery", "bracing for", and "lost in a fugue" were accepted for otata.
2 June 2018: Horror poem "The Joy of Sewing" was sold to the Horror Writers Association Poetry Showcase.
~ ~ ~ ~ ~ ~ ~ ~
For 2018 news, click here, 2017 news, click here, 2016 news, click here. For news between August 2014-December 2015, visit Archived News.