2017 Bram Stoker Award® Winner, 2018 Elgin Award nominee, and one of LitReactor's Best Books of 2017, A Collection of Nightmares (Raw Dog Screaming Press) is a poetic feast of sleeplessness and shadows, an exquisite exhibition of fear and things better left unsaid. Available from Amazon.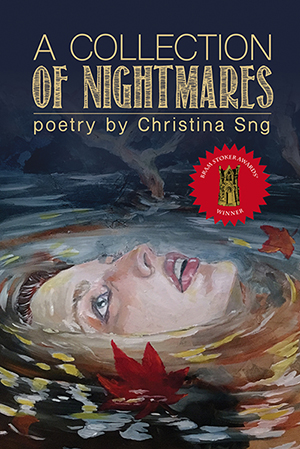 2018 Elgin Award runner-up Astropoetry celebrates the wonders and mysteries of space in scifaiku and lyrical prose. On sale from Alban Lake Publishing.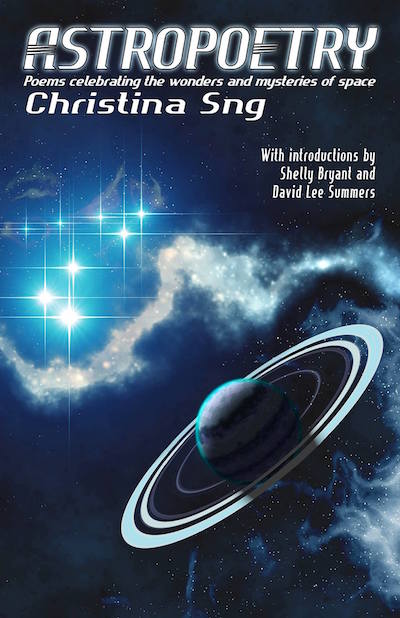 2017 Elgin Award nominee, An Assortment of Sky Things, is a poetic tour of the solar system and beyond in haiku and short poetry.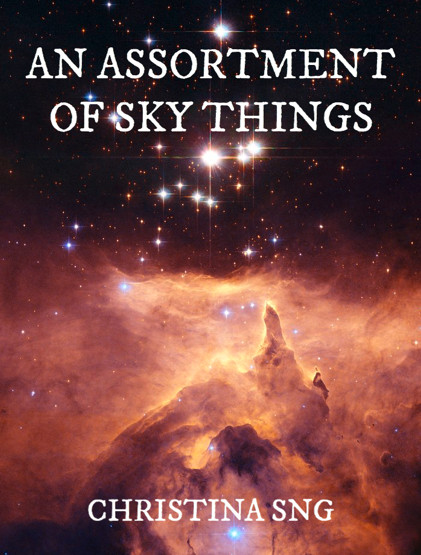 Catku takes us on a whimsical life journey between a cat and its human, a tale woven with 21 haiku and senryu based on my life with beloved cats. A must-have for all cat lovers.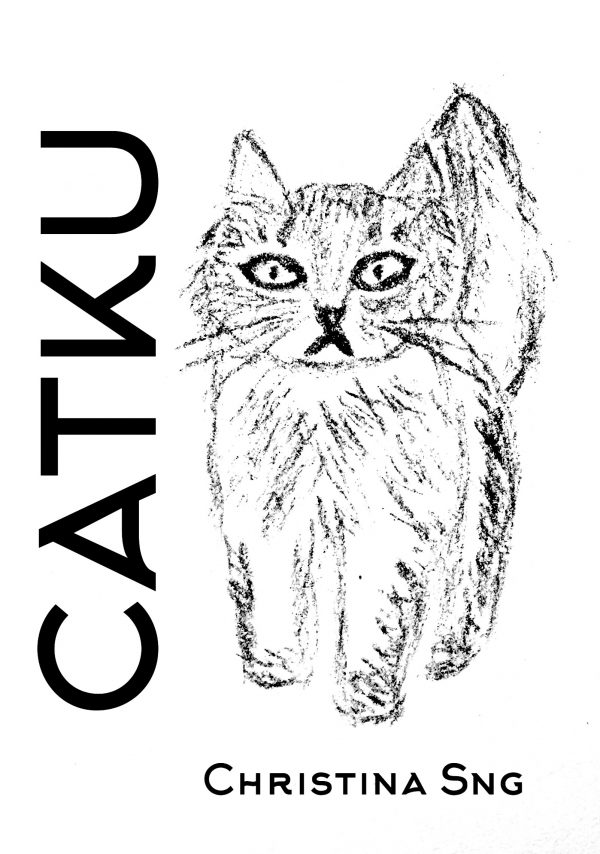 A Constellation of Songs, my first haiku collection, spans birth to death, illuminating the wonder and beauty of life in between. Available as a free PDF from the Origami Poems Project.
Dark Dreams is on sale as an eBook at Smashwords. The amazing cover is by Brian Hurtt, artist and co-creator of The Sixth Gun.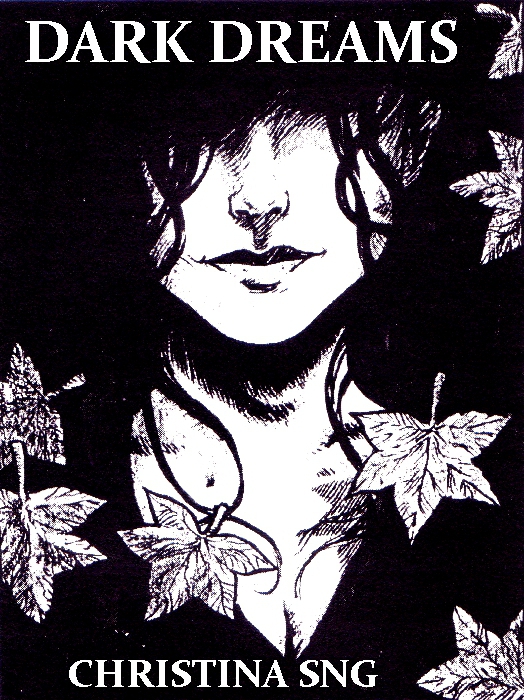 Christina Sng is an award-winning poet, writer, and artist. Her work has received the Jane Reichhold International Prize, the Jane Reichhold Memorial Haiga Award, nominations in the Rhyslings, the Dwarf Stars, and honourable mentions in the Year's Best Fantasy and Horror and the Best Horror of the Year. She is the author of the 2017 Bram Stoker Award winner A Collection of Nightmares (Raw Dog Screaming Press).
~ ~ ~ ~ ~ ~ ~ ~ ~ ~ ~ ~
~ ~ ~ ~ ~ ~ ~ ~ ~ ~ ~ ~
AWARDS, REVIEWS, FEATURES, INTERVIEWS
1 March 2019: Elated to read Bruce Baugh's fantastic review of A COLLECTION OF NIGHTMARES:
"Christina Sng's book A Collection Of Nightmares is just marvelous...Sng does more in a few dozen lines than quite a few entire books I've read...If you're looking for some great contemporary horror distilled to its most potent essences, this is a book for you."

28 February 2019: An interview with Stephen Kozeniewski for Women in Horror Month: Women in Horror Month #11: Christina Sng, Stoker Award-Winning Poet Behind A COLLECTION OF NIGHTMARES.
21 February 2019: An interview with Sara Tantlinger for Women in Horror Month: WiHM Interview with Christina Sng
18 February 2019: My poems "Forest Mother", "The Girl and Her Wolf Dog", and "Rapunzel" have been nominated for the 2019 Rhysling Award!
16 February 2019: Thrilled to be featured in Gwendolyn Kiste's Women in Horror roundtable alongside so many writers I admire.
"...just in case you haven't read her poetry collection yet, I highly recommend the amazing Christina Sng's A COLLECTION OF NIGHTMARES. It's beautiful, it's unsettling, it's absolutely perfect reading for February or any other month."--Gwendolyn Kiste, author of RUST MAIDENS and Bram Stoker Award nominee AND HER SMILE WILL UNTETHER THE UNIVERSE
12 February 2019: What a privilege it has been working with the Singapore American School's Advanced Topic Writing and Publication students over the past four days. They have such energy, creativity, and love for what they do. I am in awe of how generously and positively they give and receive feedback, and lift each other up as a team. It has been tremendously inspiring working with them and I cannot wait to see their published stories later this year.
1 February 2019: Thrilled to see A COLLECTION OF NIGHTMARES included among so many other fantastic books in Elgin Award-winning poet Christina Rau's To-Read Speculative Poetry List in her article on Speculative Poetry: Poems of Science Fiction, Fantasy, and Other-Worldly Visions over at BookRiot.
~ ~ ~ ~ ~ ~ ~ ~
LATEST RELEASES
2 March 2019: My poem "Sunset on Kepler-22b" appears in the latest issue of The Future Fire.
24 February 2019: 2 poems in the Winter 2018 issue of the Wales Haiku Journal.
all the dreams
I shared with you
childhood swing
the half-life
of painkillers
autumn branches
20 February 2019: My poem "Winter's Gift" appears in the Ladies of Horror Flash Project!
11 February 2019: Received my contributor's copy of Passages which collects the best of New Myths in a first volume. It includes my 2016 Rhysling-nominated poem "Twenty Years".
7 February 2019: Part of the fantastic lineup in Sins and Other Worlds with my story "The Assassin Program".
5 February 2019: Over the moon to see my story "The Goblin" in Daily Science Fiction today! This is my first appearance in this fantastic venue.
3 February 2019: In the World Haiku Review's 10 Year Anniversary edition Fuga No Makoto alongside so many esteemed friends and colleagues with my 2 neo-classical haiku "cold summer" and "summer comfort" in the sections "Summer on Toast" and "Cat on my Lap" respectively.
cool summer
getting along in a pot
moss and weeds
summer comfort
the arthritic cat
basks in the sunlight
31 January 2019: My art "Worlds Collide" and "Lies the Tree Told", poem "Life on Uranus", tanka "Lost Twin" and "After Hypnotherapy", scifaiku "Pets", "The Feeling", "Burying the Alien" and "Immortality", and fantasy ku "Even as Queen" appear in Star*Line 42.1.
30 January 2019: My horror flash "How It Began" is live now at the Ladies of Horror Flash Project.
30 January 2019: This month's Haiku Dialogues:
dinnertime
at the picnic table
an ant family
roof snow
the precariousness
of our situation
spring bloom
my daughter dresses
for her prom
skipping stones
how I imagined
life would be
24 January 2019: In the January 2019 issue of Stardust Haiku:
snowy fox
a flash of light
in the darkness
4 January 2019: In today's issue of the Asahi Shimbun:
cold moon
wrapping grandma
in blankets
~ ~ ~ ~ ~ ~ ~ ~
RECENT SALES AND ACCEPTANCES
2 March 2019: My flash "The Girl in the Mirror" was sold to New Myths.
23 February 2019: My poem "Museum of Lost Souls" and ink illustration "Battle" sold to Star*Line.
19 February 2019: My poem "The Dolls" was sold to Apex anthology Do Not Go Quietly.
14 February 2019: "The Monsters Within" and "Reparation" were sold to Spectral Realms #11.
8 February 2019: "all the dreams" and "the half-life" were accepted for the Winter issue of Wales Haiku Journal.
11 January 2019: My Japanese brush painting "Journey" and haiku "all the dogs" will appear in the Summer 2019 issue of Akitsu Quarterly.
2 January 2019: Horrorku "Snowy Plains" and tanka "Whispered Words" and "Every Lover" were sold to Scifaikuest. They will appear in the February 2020 issue.
~ ~ ~ ~ ~ ~ ~ ~
For 2018 news, click here, 2017 news, click here, 2016 news, click here. For news between August 2014-December 2015, visit Archived News.