Christina Sng is an award-winning poet, writer, and artist. Her work has been published in numerous print and online venues worldwide and translated into six languages. She is the author of A Constellation of Songs (Origami Poems Project), Catku (Allegra Press), Elgin Chapbook Award nominees, An Assortment of Sky Things (Allegra Press) and Astropoetry (Alban Lake Publishing), and 2017 Bram Stoker Award® Winner, Elgin Book Award nominee, and one of LitReactor's Best Books of 2017, A Collection of Nightmares (Raw Dog Screaming Press).
~ ~ ~ ~ ~ ~ ~ ~ ~ ~ ~ ~
~ ~ ~ ~ ~ ~ ~ ~ ~ ~ ~ ~
AWARDS, REVIEWS, FEATURES, INTERVIEWS
14 April 2018: My haiku "raining again" has won First Place in the Jane Reichhold International Prize! Many grateful thanks to the ukiaHaiku Committee and the contest judge, Michael Dylan Welch.
raining again
the soft tapping
of my cat's tail
Comments by the Judge: "One of the hallmarks of a good haiku is the immediate sense that we've had the same experience, or that we've seen the same thing, feeling the emotions that go along with that experience. The poem validates our own experience as it seeks to honor the everyday extra ordinariness of life. We've all seen the soft tapping of a cat's tail, and may wonder what the cat might be thinking. Perhaps the cat is thinking exactly what we might be thinking, wishing it would stop raining so we might go outside again to enjoy the outdoors. The fact that it's raining again tells us that the cat's patience is being tried, as is our own during a rainy season. But the poem also offers a moment of contentment. It's very likely that the cat is content after all, regardless of the weather, suggesting that we might want to be content as well, no matter how much it continues to rain."
11 April 2018: Catku has been reviewed in Italian by Luca Cenisi.
31 March 2018: Delighted to be awarded 3 Haiku of Merit in the 10th Anniversary Edition of World Haiku Review in the categories Shintai (1) and Vanguard (2):
nettle season
learning nonchalance
from my cat
promises
hung upside down
dried roses
loud echoes
still trapped somewhere
my poems in me
30 March 2018: With Fiona Mcvie at Author Interviews.
28 March 2018: My haiku "a caterpillar" was featured on haiku windows this week with a lovely commentary by Katherine Munro:
a caterpillar
in my window box
changing seasons
"Here we also have the idea of the changing seasons, winter to spring or spring to summer, most likely, emphasized by the entrance of a creature that will change itself. The setting of the window box also fits well – gardening and plants also follow a cycle, although humans often attempt to force their own ideas on these things..."
27 March 2018: The Bram Stoker Awards 2018!
5 March 2018: My haiku "monarch butterfly" earned 1st Place in the Caribbean Kigo Anniversary Kukai!
monarch butterfly
discovering how much
I have changed
4 March 2018: A Collection of Nightmares has won the Bram Stoker Award® for Superior Achievement in a Poetry Collection!!!
~ ~ ~ ~ ~ ~ ~ ~
LATEST RELEASES
15 April 2018: In Chrysanthemum 23, my haiku:
another day
lost in what-ifs
death anniversary
4 April 2018: My haiku "all my dreams" appears in this week's Haiku Windows.
all my dreams
behind the envelope window
acceptance letter
3 April 2018: My black and white ink illustration "First Time on a Swing" appears in Star*Line 41.2.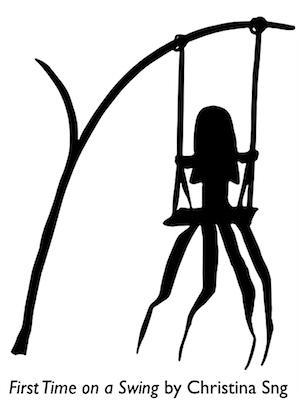 2 April 2018: Happy to see my poem "Sunshine" in the children's science fiction magazine Spaceports and Spidersilk.
1 April 2018: My poem "The Girl Made of Electricity" appears in the limited chapbook I Don't Want to Play This Game Anymore.
1 April 2018: My haiku "spring wind" appears in Sharpening the Green Pencil: The Book of the 2018 Contest:
spring wind
a wall of ivy
waves to me
1 April 2018: Happy to be a part of John Martone's splendid journal, otata:
by all accounts
I should be dead
water bear
silent spring
another tumor
another day
correcting
my imperfect pitch
arrhythmia
30 March 2018: My tanka in tinywords 18.1:
with each deep breath
I find more of myself
in this world
the scent of rose petals
after the rain
23 March 2018: Absolutely thrilled to receive my contributor's copy of Spectral Realms No. 8 with my poems "The Girl and Her Wolf Dog", "When We Fall", and "Memoirs in the Dark". Also, a gorgeous selection of weird poetry, an article on "Verse vs. Free Verse" by Frank Coffman, and in her exquisitely beautiful prose, Sunni Brock takes us on a breathtaking journey through the interweaving poems of A COLLECTION OF NIGHTMARES. Thank you so much, Sunni, for this incredibly wonderful review!
20 March 2018: "new stories"and "bone tired" appear in the Spring 2018 issue of Akitsu Quarterly.
new stories
woven by firelight
grandma's loom
bone tired
every day one twig
for the nest
15 March 2018: In this week's Haiku Windows and two from the last and previous weeks:
a rare glimpse
of mom crying
shaded windows
searching high and low
for the office cat
billowing curtains
waving to my daughter
from our tree fort window
second childhood
1 March 2018: "breakwater", "soaring eagle", and "crescent moon" appear in otata.
~ ~ ~ ~ ~ ~ ~ ~
RECENT SALES AND ACCEPTANCES
12 April 2018: Haiku "old song" was accepted for the upcoming issue of Frogpond.
5 April 2018: Scifaiku "in perfect health", "gentlest quiver", and "meteor shower" were sold to Scifaikuest for their August 2019 issue.
1 April 2018: Fairy tale poem "Grandmother Red" was sold to New Myths.
31 March 2018: Fantasy poem "The Warrior Mephala" was sold to Star*Line.
25 March 2018: Two ink illustrations "Dreams of Flight" and "Preparing to Fly" were sold to Star*Line.
23 March 2018: Sold flash fiction "The Many Lives of Swan Everly" to Outposts of Beyond.
20 March 2018: "another day" was accepted for Chrysanthemum 23, Spring 2018.
10 March 2018: "giving spring" was sold to The Cicada's Cry, Spring 2018.
3 March 2018: "The Girl Made of Electricity" was sold to Unnerving Magazine.
~ ~ ~ ~ ~ ~ ~ ~
For 2018 news, click here, 2017 news, click here, 2016 news, click here. For news between August 2014-December 2015, visit Archived News.