2022 Features
23 January 2022: Thank you to my wonderful friends for the news: TORTURED WILLOWS is on the preliminary ballot of the 2022 Bram Stoker Awards!
My deepest gratitude to my Willow sisters, Angela, Gene, Lee, and to K.P. Kulski for her heartrending foreword. Without you, there would be no collection.
Innumerable thanks to the reviewers and everyone who had kind words for our book. These were the hardest poems we ever wrote and we are truly humbled by the acknowledgement the horror community has given us.
Congratulations to all our friends and colleagues with works on the ballot! It is an honor sharing this space with you.
Special shout-out to EV Knight, Steve Stred, Alessandro Manzetti, Tom Deady, Ross Jeffery, Eric LaRocca, Chris Marrs, Jeff Strand, Carol Gyzander, Cindy O'Quinn, Anna Taborska, Kyla Lee Ward, Michael Bailey, Alan Baxter, Gemma Files, Philip Fracassi, Jess Landry, Jonathan Maberry, Alexander P. Garza, Jessica McHugh, Marge Simon, Lucy A. Snyder, Holly Walrath, James Chambers, Willow Dawn Becker, Ellen Datlow, Aaron J. French, Eric J. Guignard, Eugene Johnson, Danel Olson, Kevin Wetmore, David E. Cowen, and Nicholas Diak.
*
28 January 2022: I had such a wonderful time on the panel of The Modern Horror Renaissance at TBR CON this January with Lee Murray, Ellen Datlow, Eric LaRocca, Sadie Colleen Hartmann, and Andy Davidson. It was such an honor joining all of you in this great and important conversation. Thank you, David Walters, for organizing this fantastic event!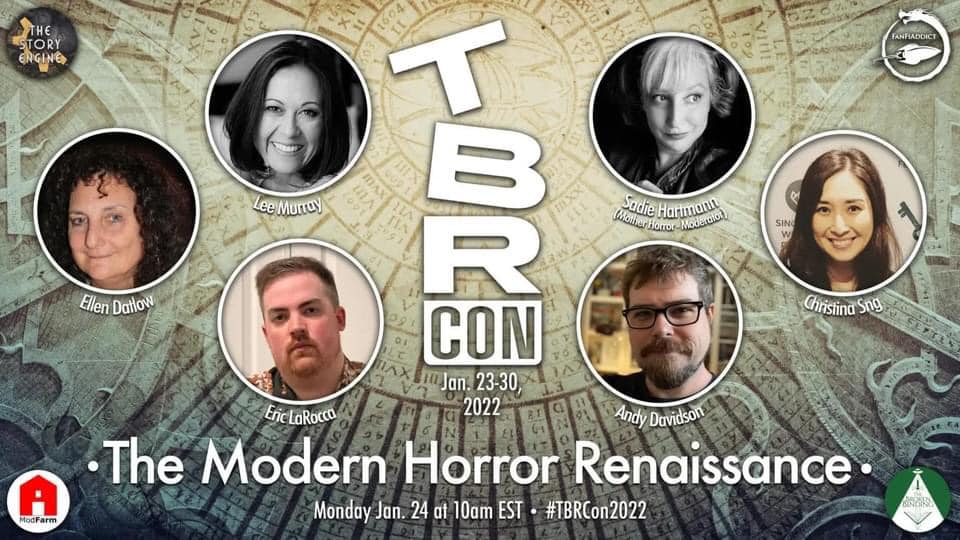 *
1 January 2022: This was really hard to write but I'm glad I pushed through and did it. I looked back at 2021 and all I saw was fog. But when I waited, it slowly began to clear.
2021 taking my dad pretty much eclipsed every other terrible thing that has ever happened to me. Given the events of the past, that's saying a lot.
But we embrace the storm with the life-giving rain and as the sunshine slowly returns, I remember that there was also an abundance of good:
* I won my second Bram Stoker Award for A COLLECTION OF DREAMSCAPES.
It received Second Prize in the Elgin Awards and was nominated for the 2020 Ladies of Horror Fiction Award.
I am so grateful to the nominators, the jury, and the voters.
Thank you to my publisher Raw Dog Screaming Press, my editor Stephanie M. Wytovich, and my publicist, Erin Al-Mehairi, for making all this possible.
Special thanks to Steven Archer whose hauntingly beautiful cover fully embodies the essence of my book.
* Thank you to the many reviewers who put A COLLECTION OF DREAMSCAPES on their Best of lists and wrote kind words about it.
* A COLLECTION OF DREAMSCAPES received a mention in The Washington Post and my poem "Concepts" was reprinted in it. Innumerable thanks to critic Ron Charles!
* I was awarded the Ladies of Horror Fiction Writers Grant. My very first writing grant! I am so deeply grateful to Steve Stred, the judges, and the donors.
* My essay Final Girl: A Life in Horror was a Stoker finalist for Superior Achievement in Short Non-fiction. Thank you, Holly, for first giving it a home in Interstellar Flight Magazine.
* First mention in Kirkus Reviews of my poems in the phenomenal anthology Shadow Atlas! Thank you, Josh, Carina, and Hillary, for including my work in your groundbreaking project.
* I'm so grateful for my haiku's regular appearances in the Daily and Weekly Best selections at The Haiku University's Haiku Column. Thank you to Professeur Nagata, Mine Sensei, Chiaki Sensei, and my haiku colleagues and friends.
* Winning First Prize in The Pula Film Festival International Competition for Haiku Poetry and the Tokusen (Second Prize) in the 26th International Kusamakura Haiku Competition were dreams come true.
* My Crane sisters, Lee Murray, Gene Flynn, Angela Yuriko Smith, and I saw the publication of our collaborative poetry collection TORTURED WILLOWS: BENT. BOWED. UNBROKEN to rave reviews.
* A huge thank you to my Patrons on Patreon for your unwavering support. I am deeply grateful!
* Seeing my work in the many incredible and inspiring 2021 anthologies and magazines.
* I started studying again. It has been wonderful.
* Rekindled my love for chocolate.
* I returned to sea and loved it.
* Kindness and generosity from strangers, acquaintances, and friends through this difficult year.
* All of you -- my friends on social media -- your compassion and support have been monumental. Thank you for walking on this journey with me.
I wish for a world of good things for you: joy, peace, health, and your heart's deepest hopes and dreams.
May this year be one of light and love for us all.
2022 Releases
14 February 2022: Super excited to see my digital drawing "The Humans are Flying" in Penumbric Speculative Fiction Magazine this month! This is the first time Biscuit & Gray from my comic series are featured in a magazine!
"The Humans are Flying" depicts an alien invasion as seen from the eyes of a cat, a rabbit, and their forest friends. Read the rest of the fabulous issue at http://penumbric.com.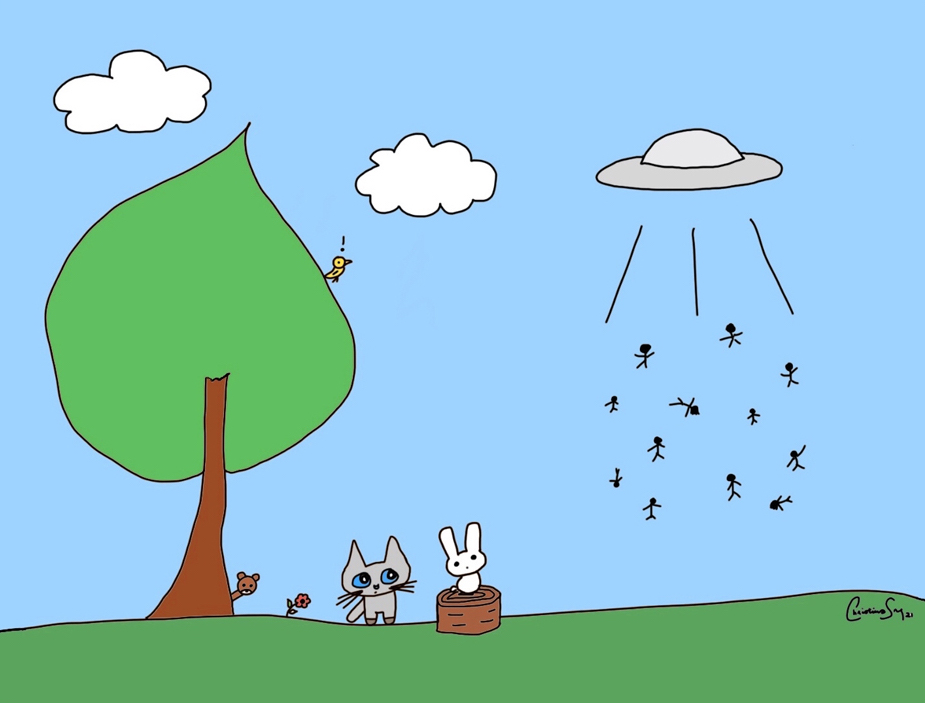 *
10 February 2022: Elated to share pages with Stephen King, Josh Malerman, John Langan, Christa Wojo, Tonya Liburd, Gary A. Braunbeck, Hailey Piper, Sheree Renee Thomas, Sara Tantlinger, Lucy A. Snyder, Marge Simon, Cindy O'Quinn, Shane Douglas Keene, Jamal Hodge, Maxwell Ian Gold, Wrath James White, and Linda D Addison in the CHIRAL MAD 5 anthology, edited by Michael Bailey, with my poem "The Infinite Lives of the Little Match Girl".
*
9 February 2022: Thrilled to see my painting "Against the Storm" on the cover of the Winter 2022 issue of ILLUMEN!
*
8 February 2022: So happy to among friends and colleagues in AGAINST THE CURRENT, edited by Lori A Minor. Thank you, Lori, for this beautiful and important book.
I remind myself
my body is my own
desert rose
some things
impossible to forgive
the murder of crows
another stillbirth
the snow now
waist deep
wildflowers
my first year
of freedom
*
5 February 2022: Delighted to see my haiku in the Winter 2021-22 Issue of World Haiku Review.
Neo-classical Haiku:
winter storm
my cat curls up
close beside me
Vanguard Haiku:
second booster
grandma's hope to see
another Christmas
cold change
the dissipating of friends
after divorce
the massive void
left by my father
stellar black hole
*
3 February 2022: My poems "Medusa" and "The Mimics" appear in Spectral Realms 16.
*
6 January 2022: Happy to see my haiku in Haiku Dialogue on the topic of Ad Astra this week:
second chances
my children and I
on the space ark
*
6 January 2022: Thrilled to be a part of CHIRAL MAD 5 with my poem "The Infinite Lives of the Little Match Girl"!
*
3 January 2022: Lovely to see my first haiku of/2022 in the January issue of brass bell.
dark morning
still deeply steeped
in nightmares
*

Archived News: 2022 | 2021 | 2020 | 2019 | 2018 | 2017 | 2016 | 2014-2015
~ ~ ~ ~ ~ ~ ~ ~